As my current most anticipated game (tied though with the upcoming remake of White Day: A Labyrinth Named School coming out in a month), I've been doing analysis of the trailers. I will reference these analysis a few times, you can find my previous analysis.
Now here's my analysis of the new 'Survive' trailer: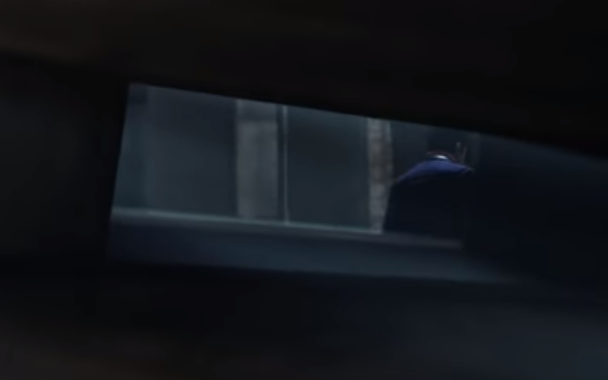 We begin the trailer with an in-game cutscene bit where it looks like we're watching Lily from a first-person perspective doing some hide'n'sneak horror fun as a little girl hiding from someone in a blue suit. Now this isn't gameplay but I kind of doubt they'd start the trailer like this if they weren't hinting that there may be some segments we play as Lily in the game.
The man in the blue shirt finds her and Sebastian wakes up (but I assume Sebastian waking up is out of context here just to transition the trailer), but we actually get a brief view of who it is in the blue shirt: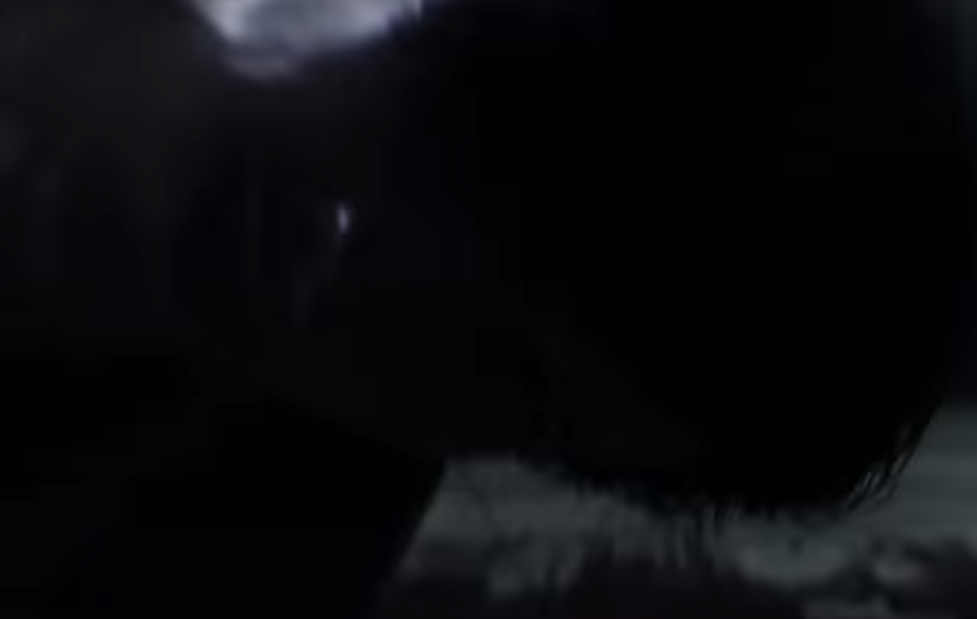 It turns out it's Stefano.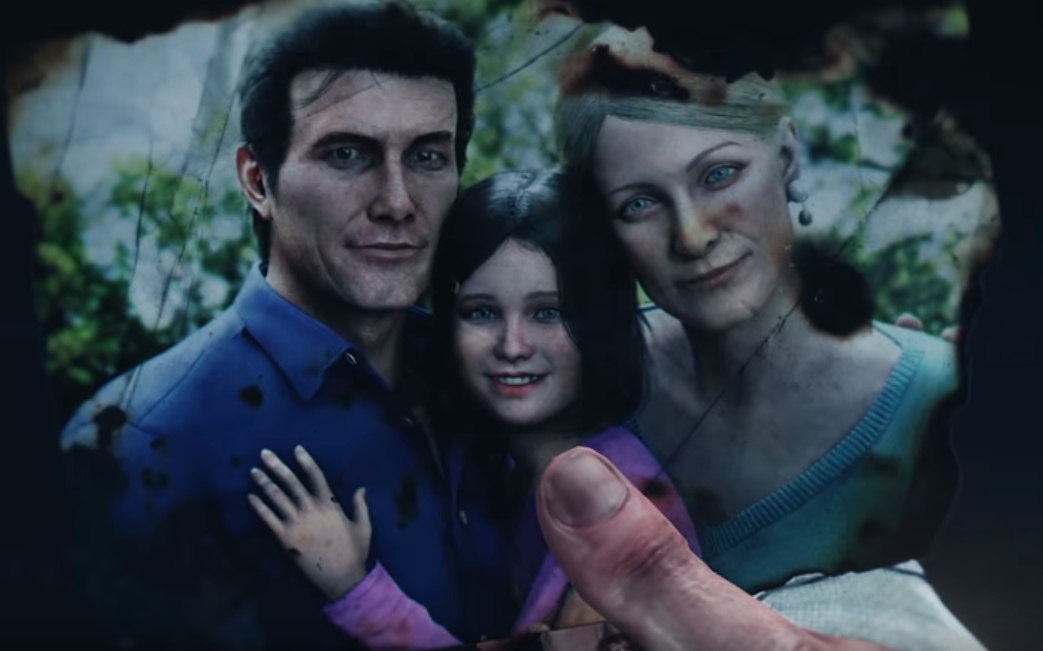 I also mentioned previously in the last trailer there was a reoccurring blue shirted dude that Haunted were throwing in the pile and appeared a few times throughout. So it seems all of them are younger Sebastian: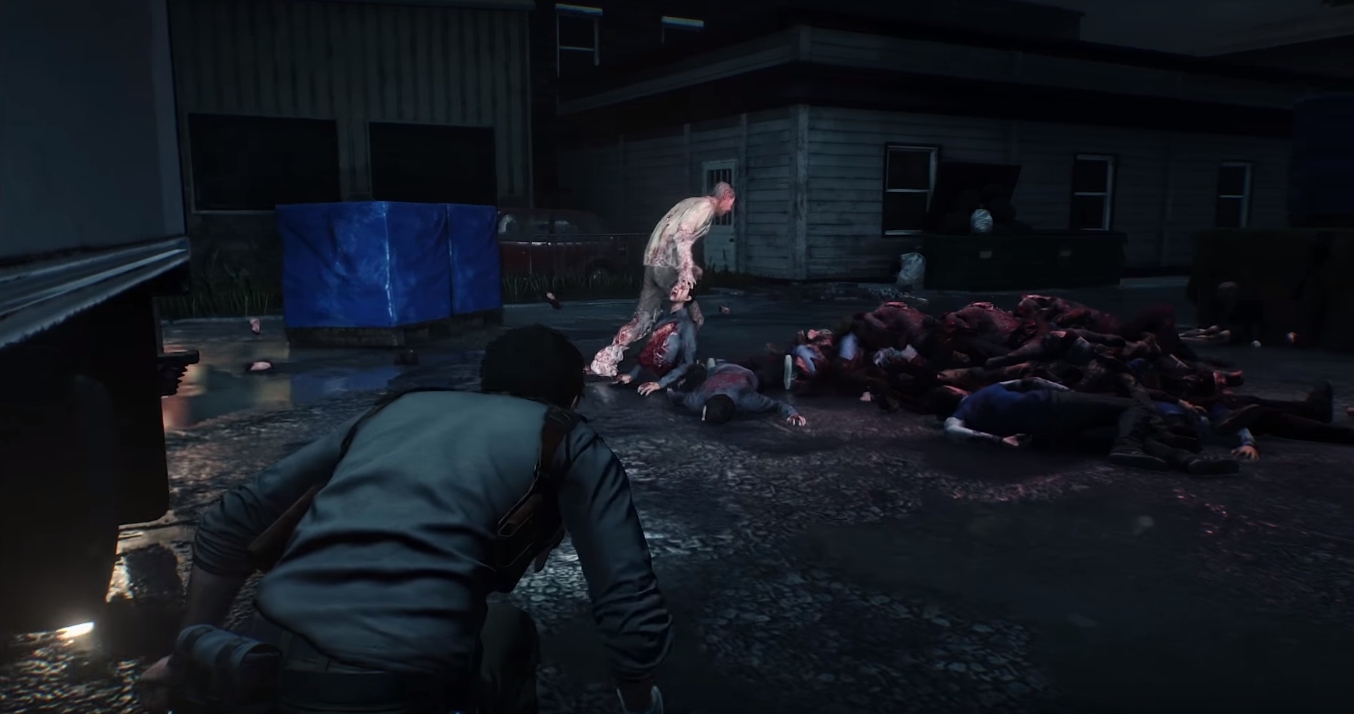 Lily then goes into a tangent of how this is all Sebastian's fault, so it seems she isn't having the best impression of her father, that's for certain.
As Lily comments on how Sebastian wasn't here for her and his fault in this, we get a few story scenes that flash by. Sebastian wakes up upside down on a couch, I'm assuming this is early in the game because he's wearing a jacket and he seems to do the Leon from Resident Evil thing and Sebastian from the first game where he loses the jacket fairly early in (but we've seen it before with him standing in the alleyway in the story trailer).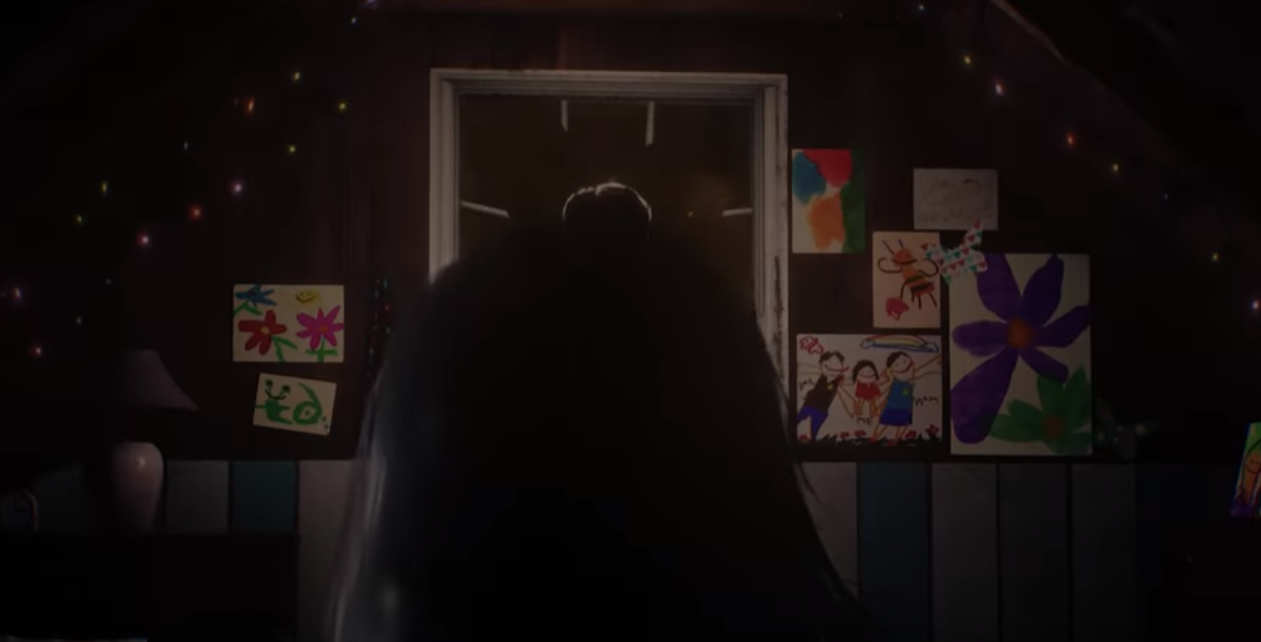 We see Lily watching her father looking out of a burning window in her room. This is related to a scene we've seen a bit of since the last trailer, there's some gameplay scenario where Sebastian relives his memory of entering his burning house and looking for Lily, it might be really early into the game or a bit in but this scene shows the glow of a fire, the shattered window, and Lily in her room blaming him so it's either a nightmare or something in STEM. Notably in this sequence you also do play as younger Sebastian.
Now we see this black water place again: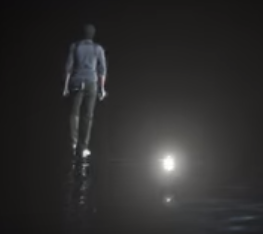 In the gameplay trailer you see this spot a couple times, except it's not the same... What I mean is in the 'black water' space we see in the original game we see three houses in the distance, and Sebastian at this point already has the shotgun and the agony crossbow.
From the extended gameplay trailer: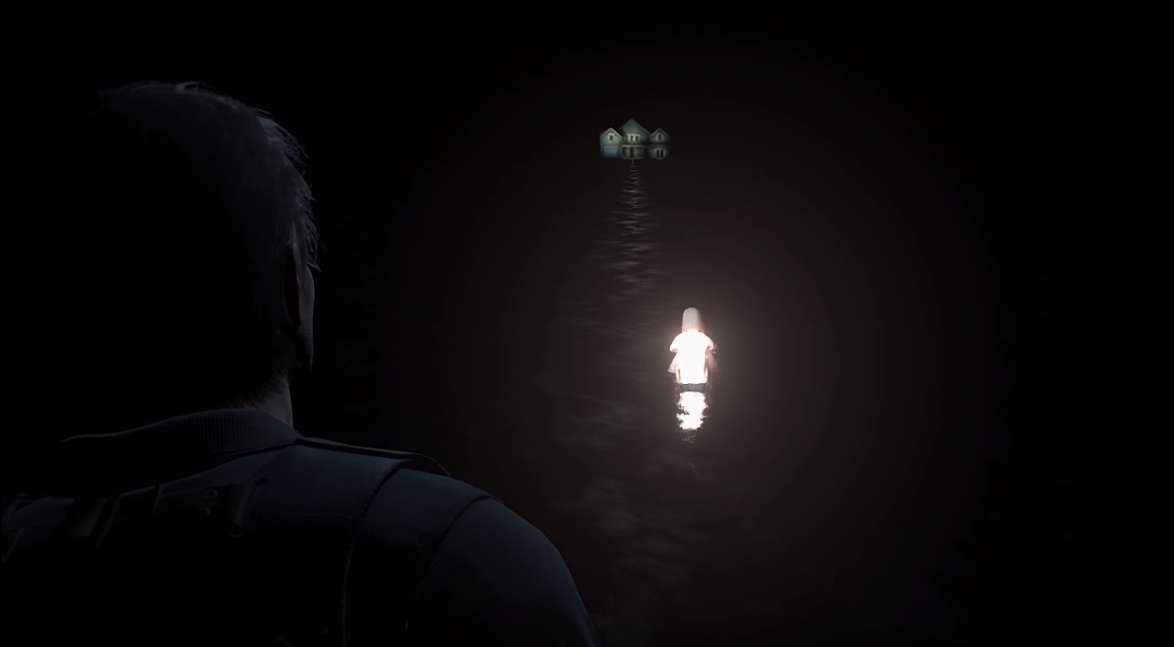 However, in this one he has nothing, and instead of three houses he's approaching Beacon Mental Hospital from the original game: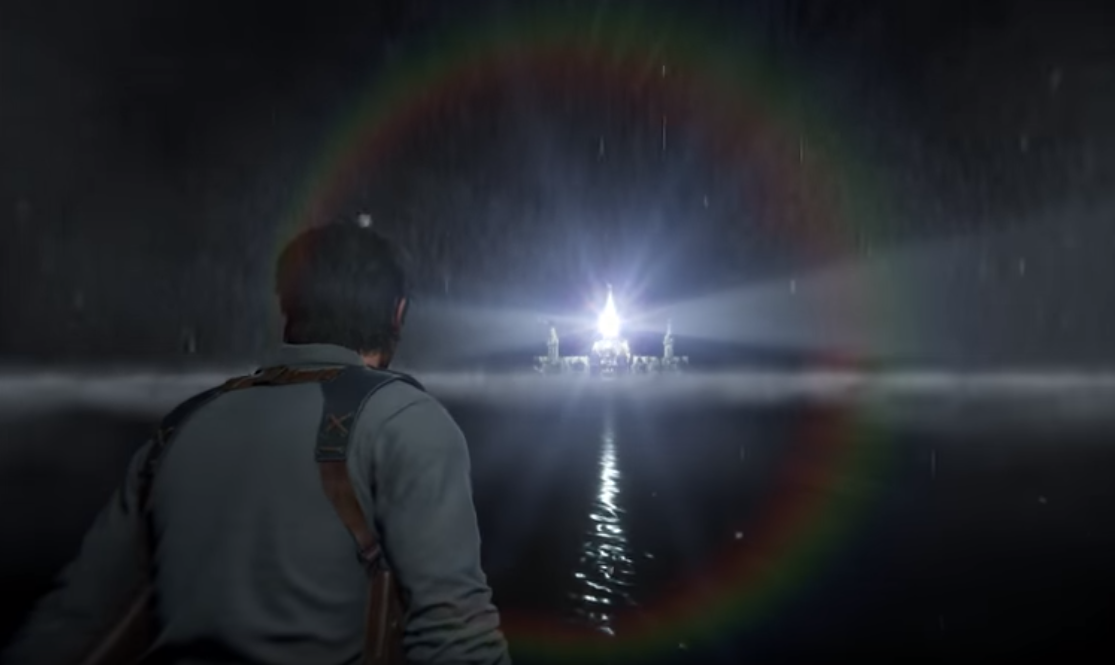 So this black water space seems to be some kind of transition between worlds, memories, or something. This also confirms something I've suspected since the extended gameplay trailer, but it seems like the segment in Beacon Mental Hospital is very early in the game, like maybe one of the first things you do when you enter STEM. I thought so because Sebastian has nothing on him in any of the Beacon Mental Hospital scenes we've seen where he see's the original Laura, so I think when he first enters STEM he kind of starts by reliving some stuff from the original Evil Within kind of like a memory, which I guess makes sense since him going back into STEM would remind him of his first time entering STEM. Also it seems like we probably know how this sequence ends because there's bits of it n the other two trailers, it seems eventually the old Laura gives way to the new giant sawblade Laura we see in other trailers which is too much for Sebastian to handle, so he runs for a glowing elevator (like he does in the original Evil Within at the end of the prologue from the chainsaw Sadist, so certainly is a callback) but then reality changes and he falls down and is spit into the town of Union. I thought might've been Sebastian's initial trip to Union but it's looking far more likely now.
A random nice touch is Beacon Mental Hospital's black water area is drizzling like it is during the events of the original game, which makes sense as this is a memory of Sebastian's time there.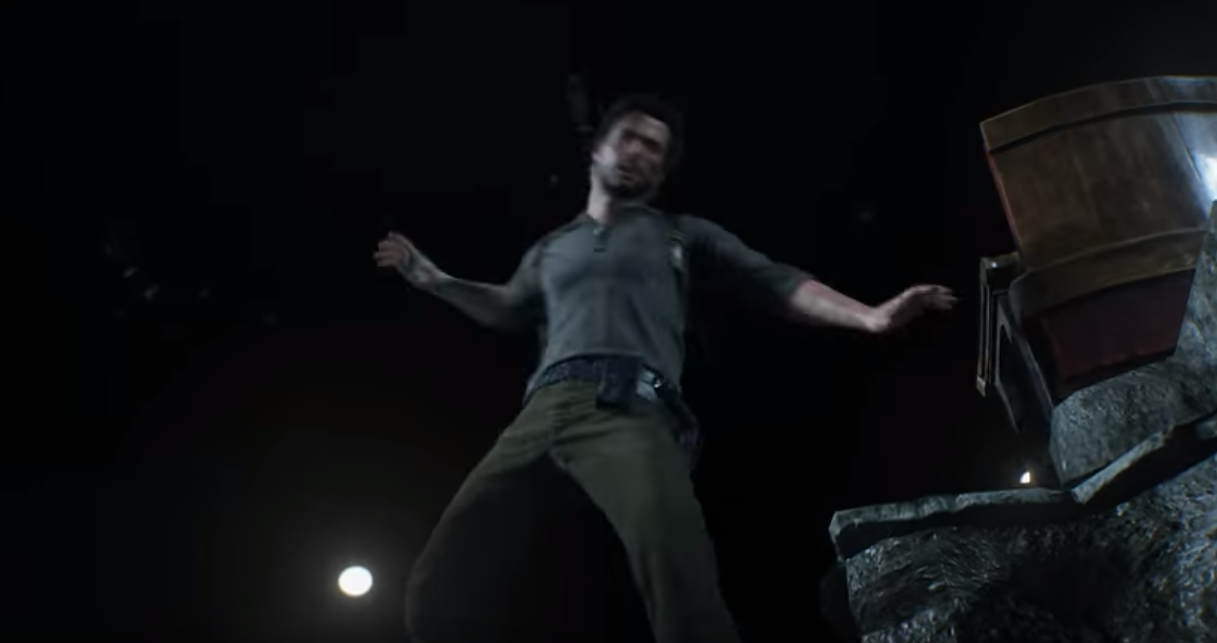 In some black zone Sebastian walks on cement and falls. It's not clear if this is the same 'black water' zone as earlier or elsewhere.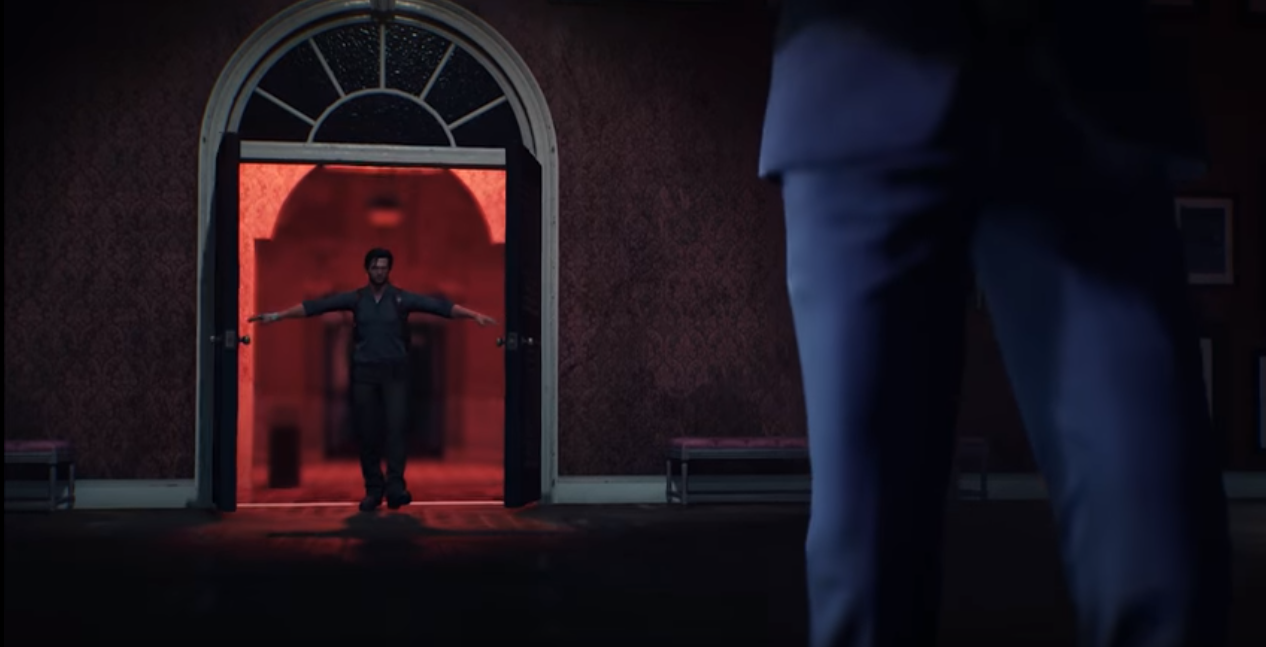 Sebastian bursts through some doors to Stefano, he's coming from an area filled with red light (which we may see later in this trailer). The scene seems dramatic so it's probably before a big scene with Stefano. Maybe a boss fight, since we know he's an enemy?
---
The trailer begins to go really fast at this point, so there's a lot to catch that happens very quickly.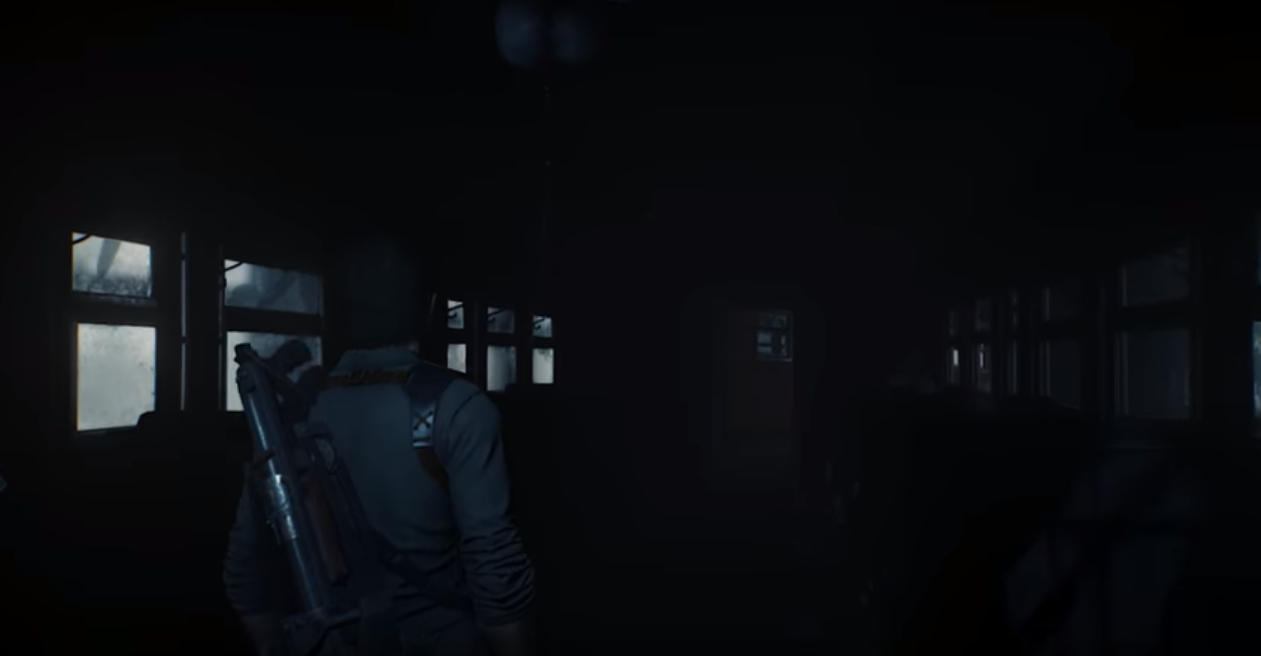 Sebastian is on a train of some sort, though notably there appears to be giant tentacles outside. Above him crawls a fairly fun looking monster: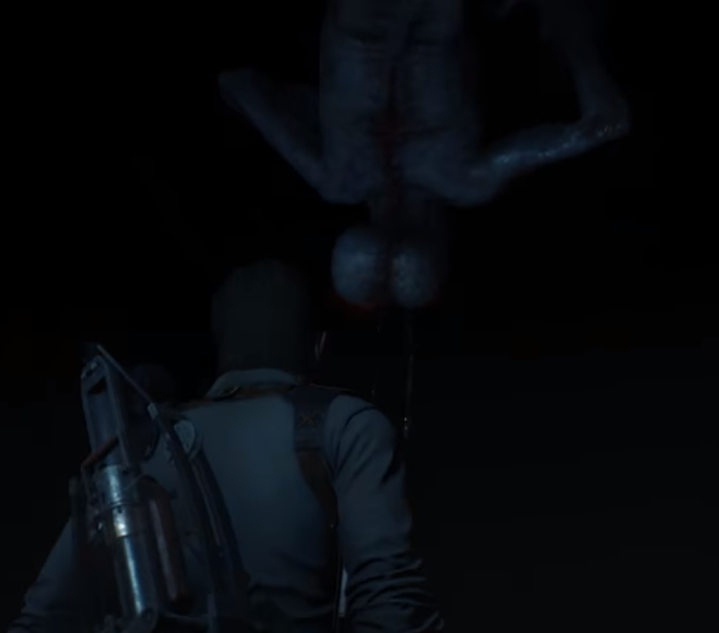 It kind of reminds me of a Licker but might have no tongue, it's some naked being but instead of a head it has a giant brain for a head which is dripping to reveal it's on the ceiling.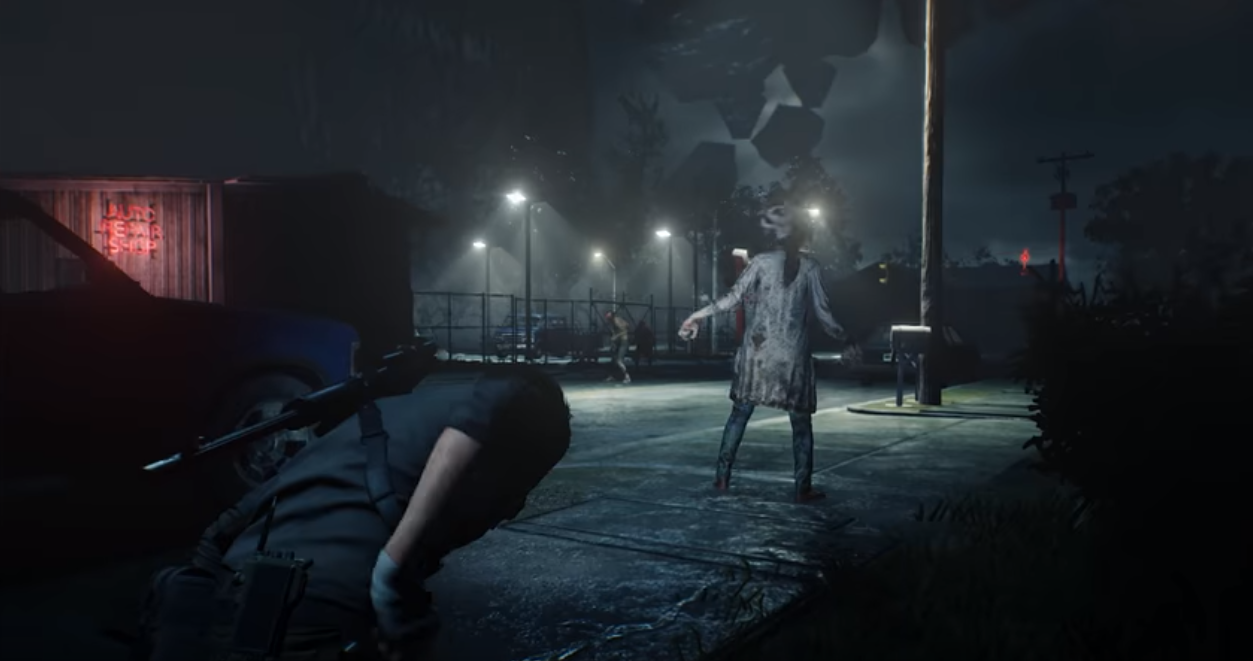 Sebastian is sneaking in the town of Union onto one of the "New Haunted" (can't wait until we get an official name for them), and pulls out his knife which has an animation. It seems you may need to have your knife pulled out to do stealth kills with it?
One other minor detail we've also seen in small snippets of gameplay released since the extended gameplay trailer is the Haunted's face is doing this 'blurry tentacle' thing:

In the original Evil Within when you shoot enemies heads but don't get a headshot, the Haunted have big holes and chunks of their face torn off. From a gameplay clip seen at the E3 Haunted House, it seems in TEW2 when you shoot part of the New Haunted's face and you don't get a successful headshot, the enemies face starts to get a bit blurry and tentacles form off where you've shot. No idea what that's about yet, but I imagine it makes it harder to get headshots if you failed the first attempt.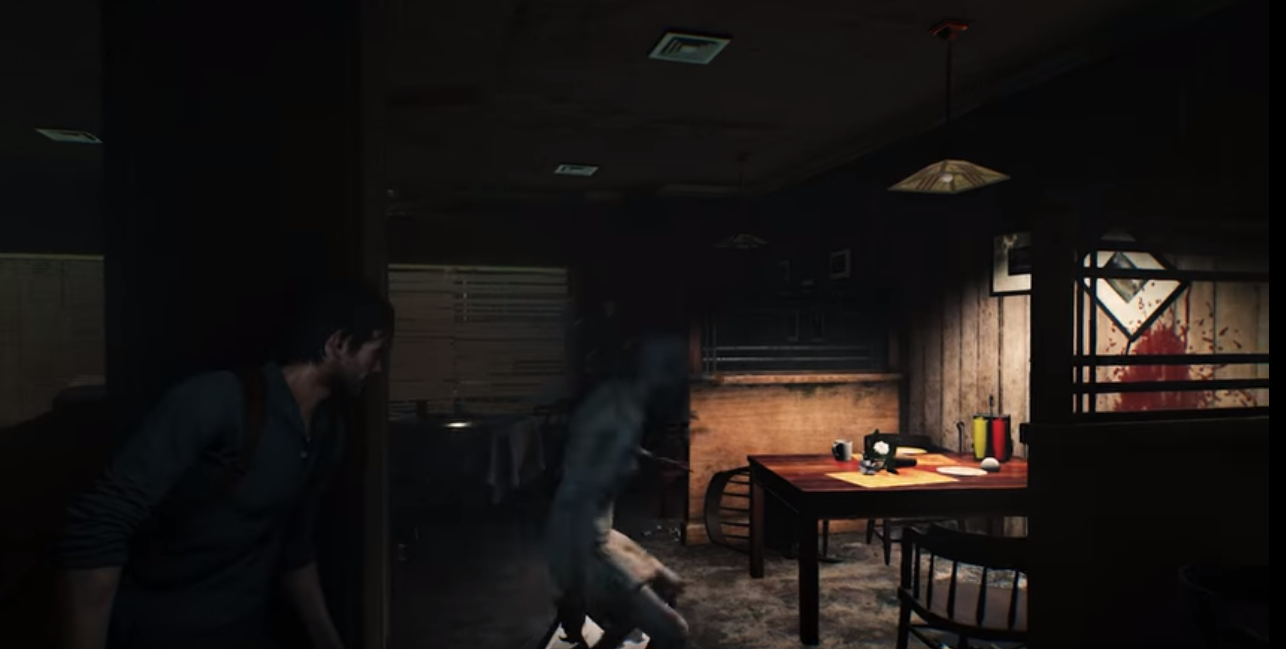 We see Sebastian hiding in some Diner as a female New Haunted with a knife is looking for him. Sebastian does some new stealth kill technique after she swings where he comes from around the pillar and stabs her brains out with his knife from the side. So seems you can do some stealth kills out from cover if they're close enough and their defense is down.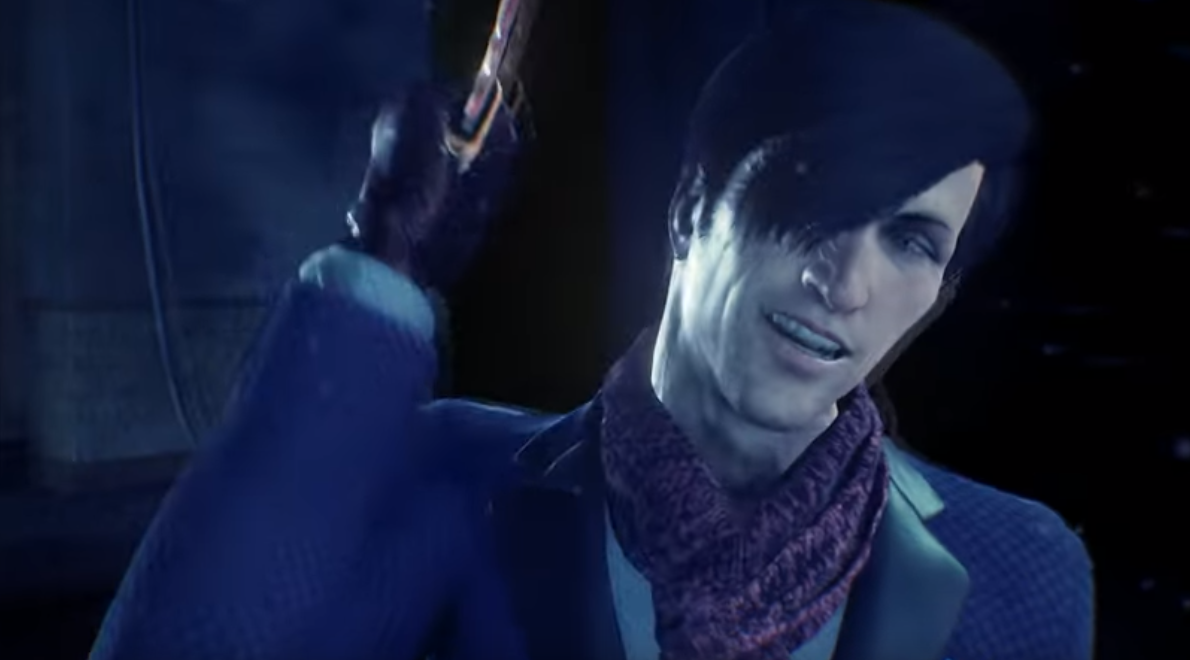 We get a charming shot of Stefano, he's carrying a curved knife he then puts right into Sebastian's eye: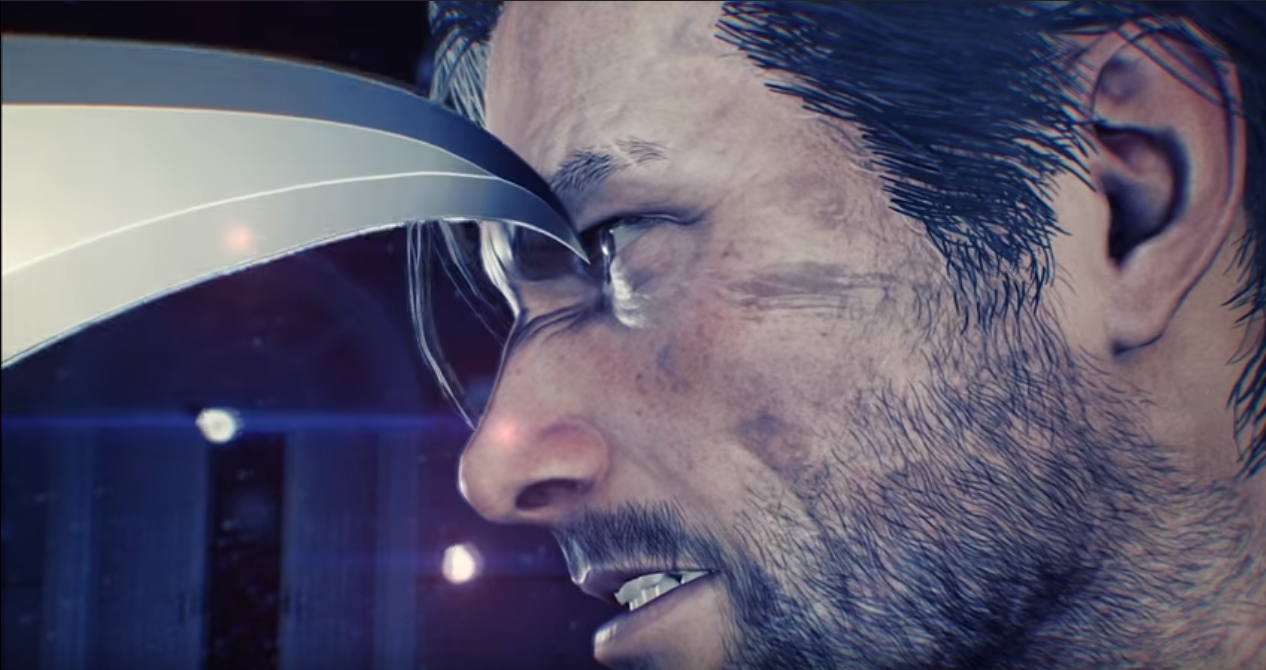 Now I've mentioned this all previously but Stegano's camera and Obscura's camera seem to have an ability to make 'cubes' that capture things in time and freeze them, I've predicted this has a role in gameplay with both of them, and this seems to be a story moment with that occurring since Sebastian is frozen and has the chromatic aberration thing going on that you only see inside of the 'time cubes' taken with the cameras. Probably is a story moment telling you to fear these cameras, they do more than take your picture.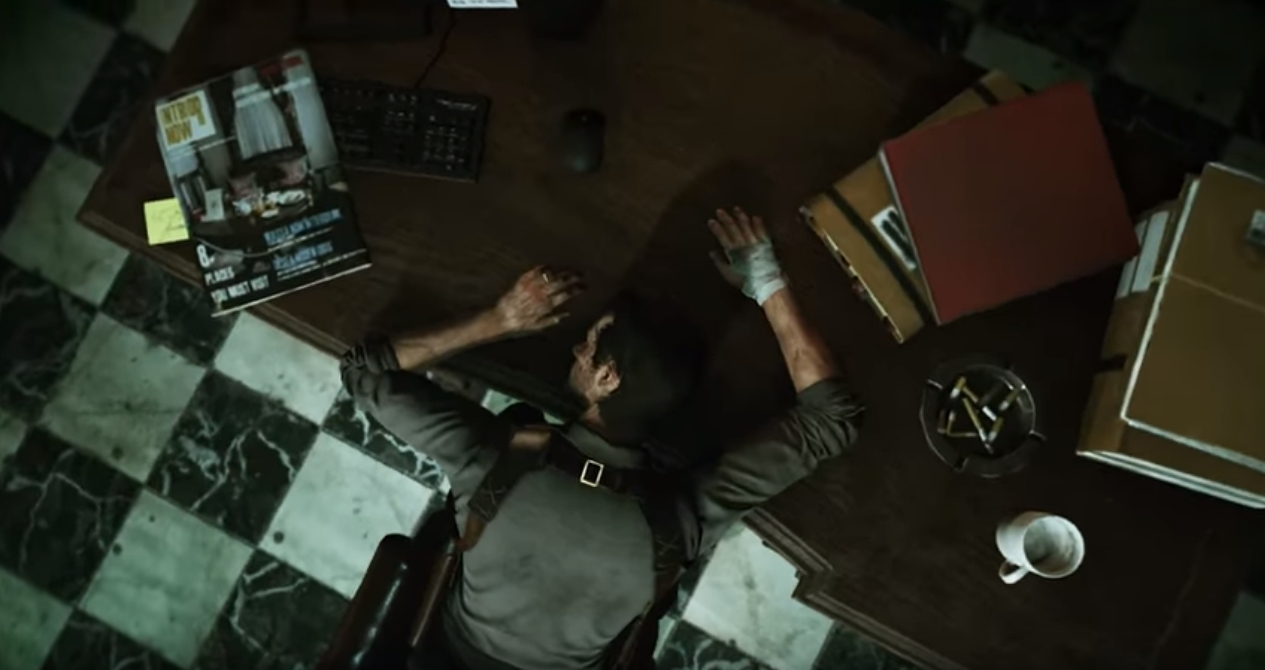 We see Sebastian at a desk which I believe is the police station he used to work at with Joseph and Kidman, and this also seems to be where Sebastian picks up the 'device' Kidman gives him in the extended gameplay trailer: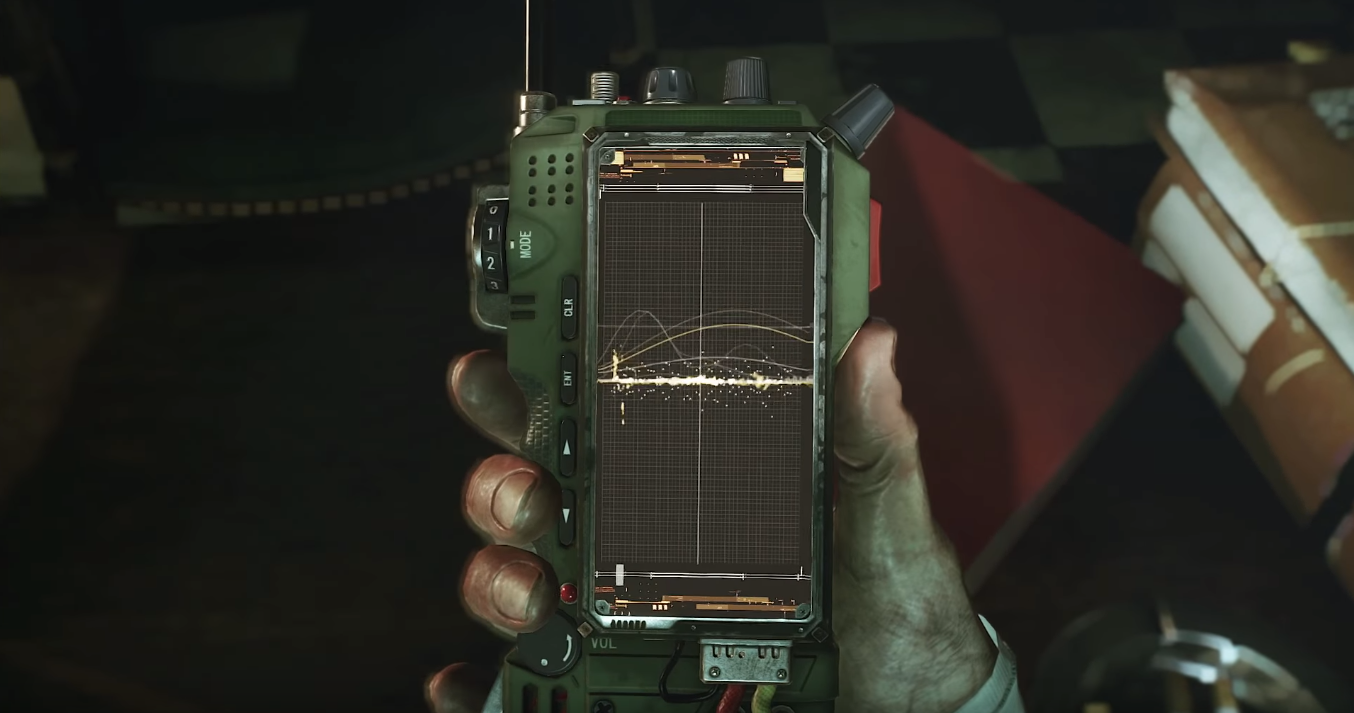 So this might be really early in since he lacks anything and this seems to be his first interaction possibly with the device.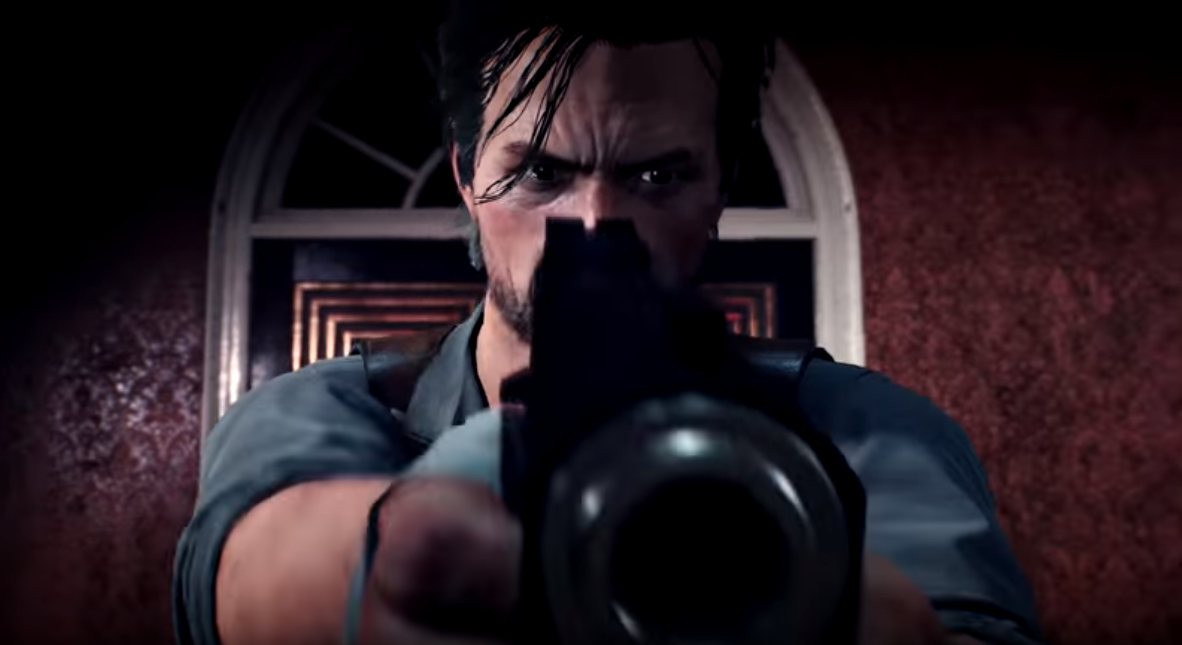 This is a continuation from Sebastian bursting the doors open to Stefano from earlier, he quickly turns around as it seems the doors forced closed behind him and pulls out his gun.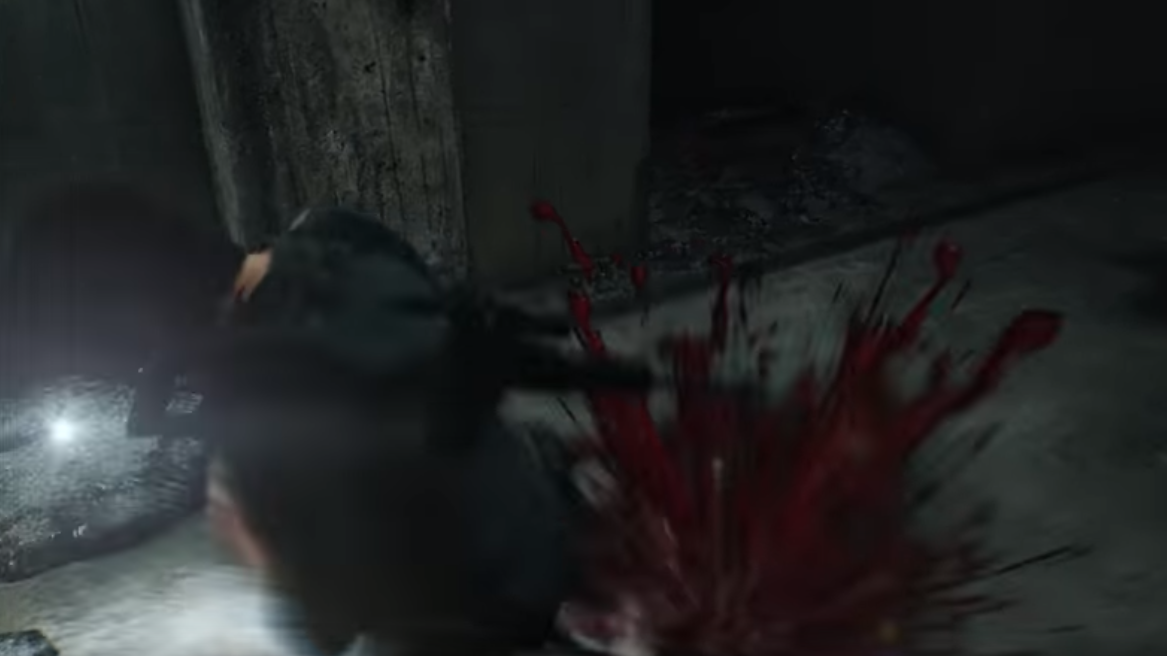 Sebastian curb-stomps a New Haunted on the ground. Also of note he has his Agony Crossbow pulled out with an electric bolt, and right before he stomps the enemy a surge of electricity runs through the enemy, so it seems he shocked the enemy to let it sprawl on the ground and then came up and curb-stomped him.
---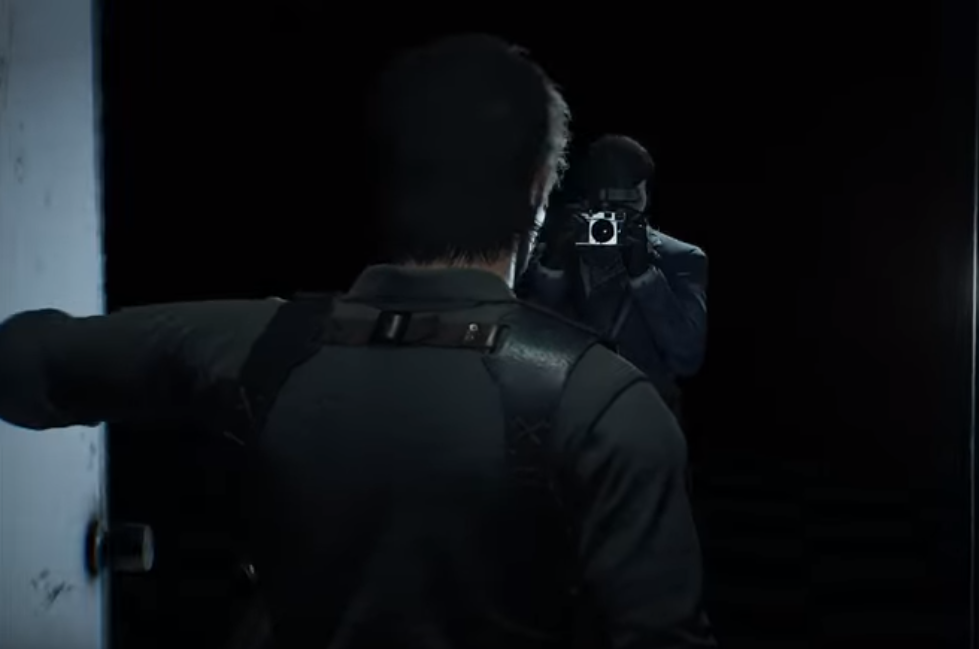 In the trailer we hear Stefano talk for the first time, he has quite the accent. We also see a scene where Sebatian opens the door and Stefano is there with the camera. I actually believe this transitions into the cutscene we saw above with Sebastian frozen and Stefano holding the knife to his eye as the scenario and background fit for it to be the case.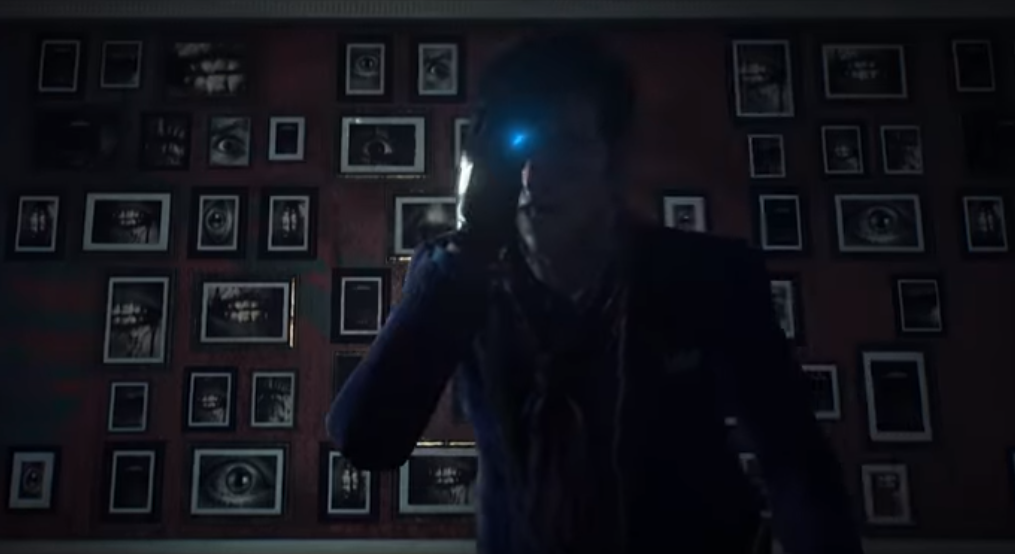 Looks like we know Stefano's weakpoint, his eye glows blue and he covers it with his gloved hand.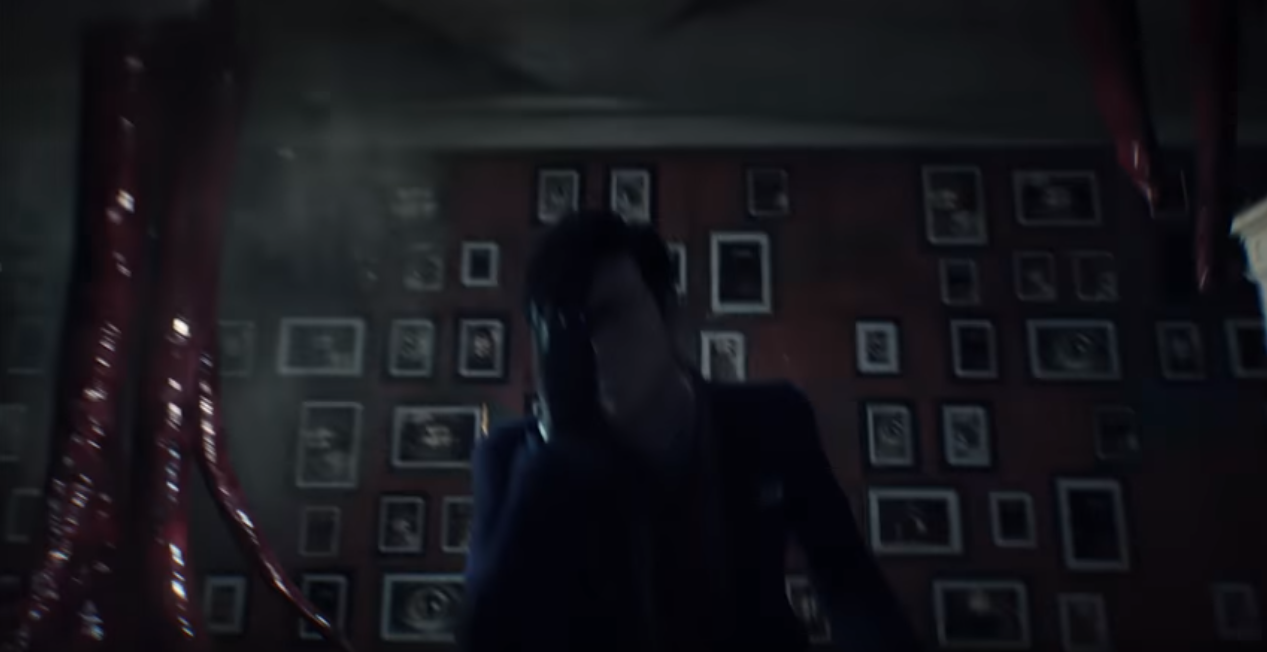 Giant Red Tentacles burst from the ceiling of the last scene, we're about to see more of them but this is related to something we saw in the extended gameplay trailer: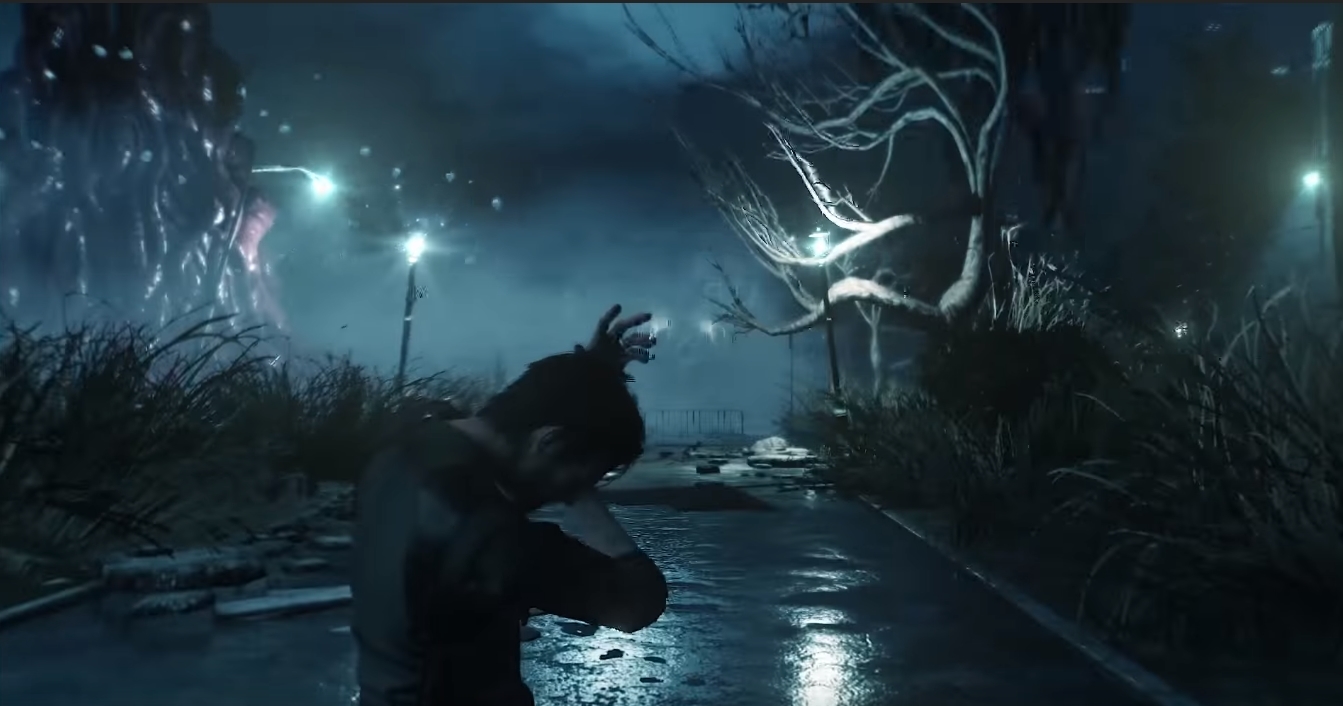 It seems through the game there's some colossal rend-tentacle monster which gets bigger and bigger, it's smaller here but it seems to be earlier in the game and the stuff seems like appendages of whatever this thing is, but we see more of it shortly.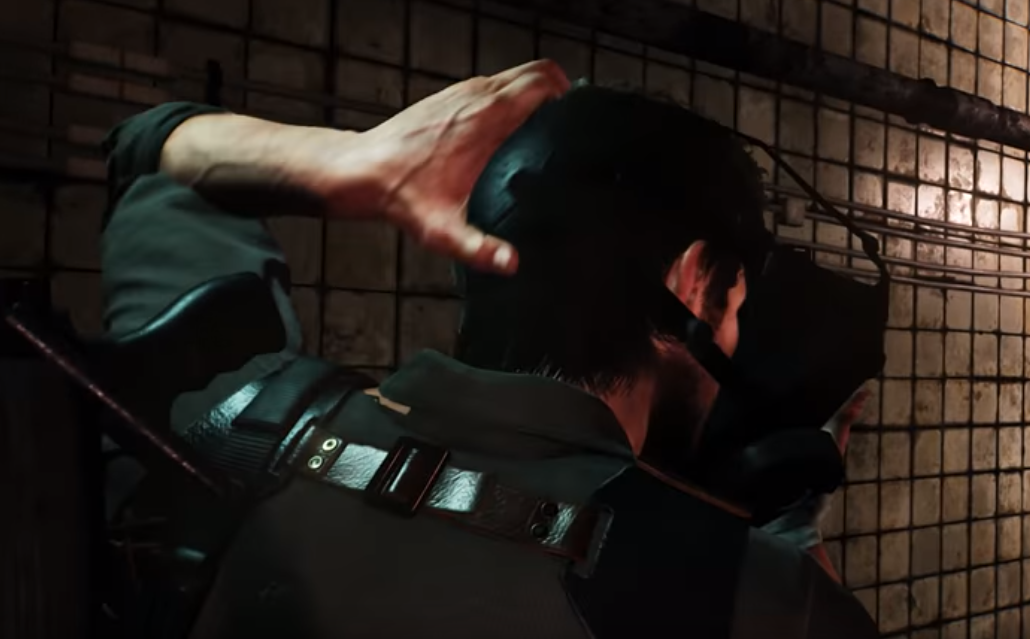 Sebastian is in a tiled environment and puts on a gas mask. Be interesting to see what this is all about and how it plays into gameplay, the original TEW did have some gas stuff in it so might be an extension of that, or something new. The location might be something we have or haven't seen before, it's a bit hard to tell. I almost want to think it's a subway which might be related to the train we saw earlier.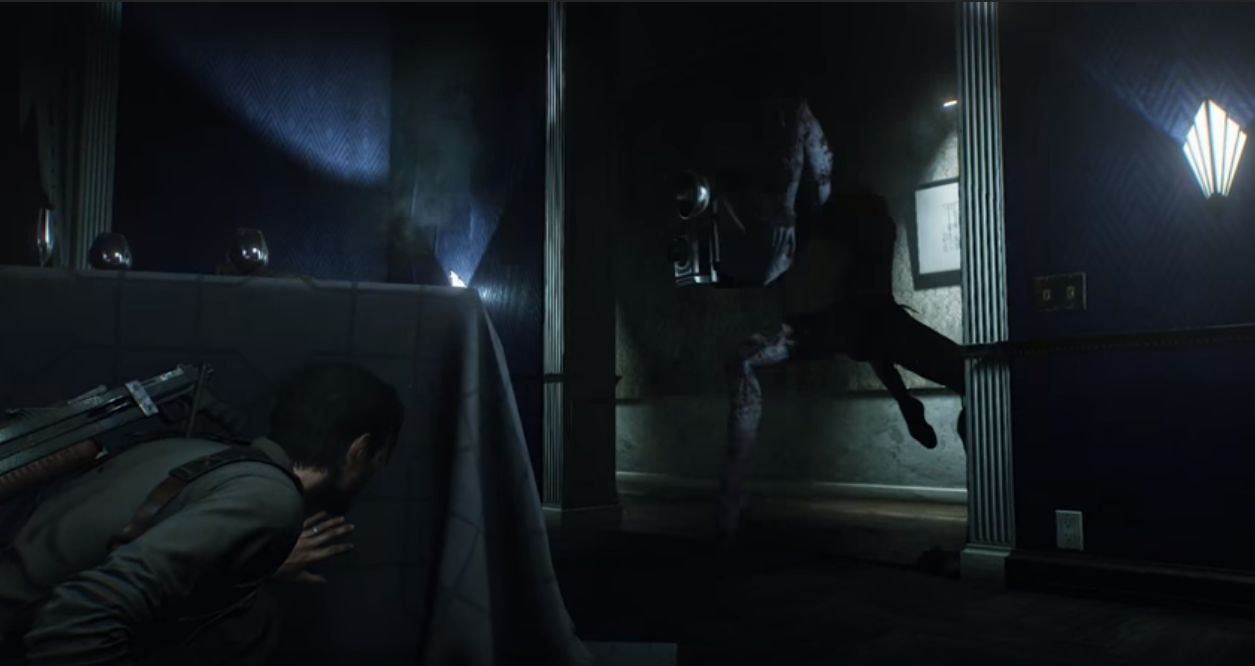 Sebastian hides from Obscura walking around with her three legs.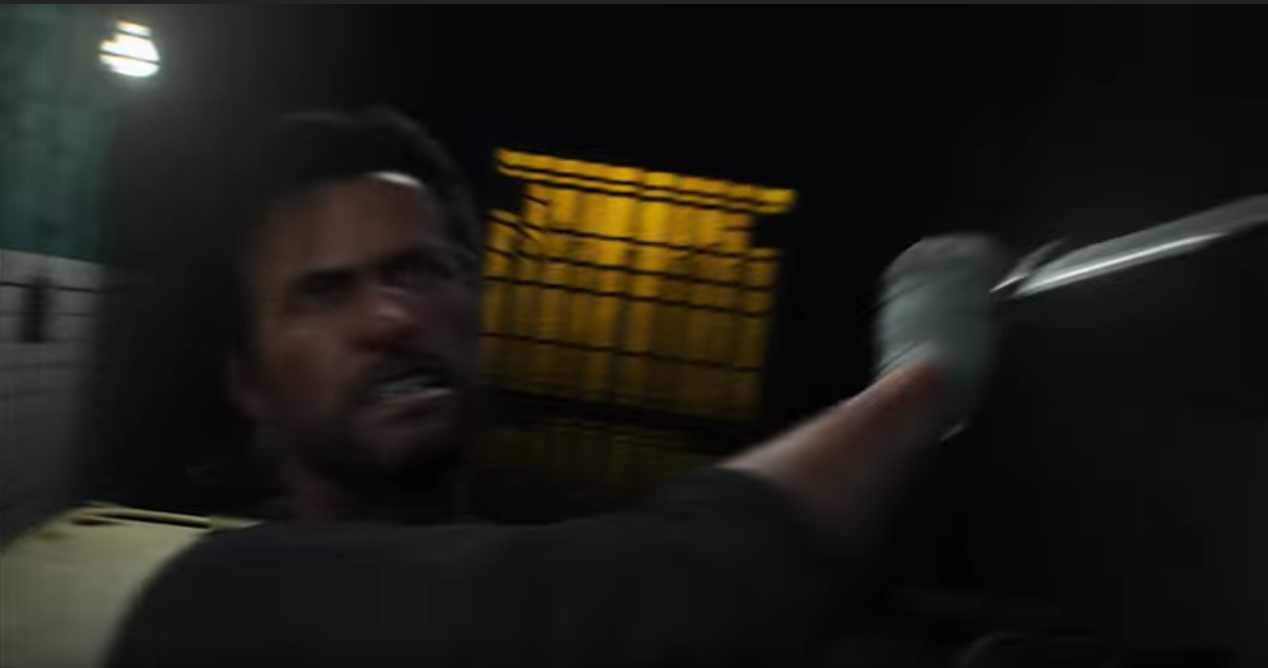 Sebastian does a stealth kill to some monster from the monster's perspective? I don't know if this is cutscene or gameplay, it's a bit hard to tell but interesting...?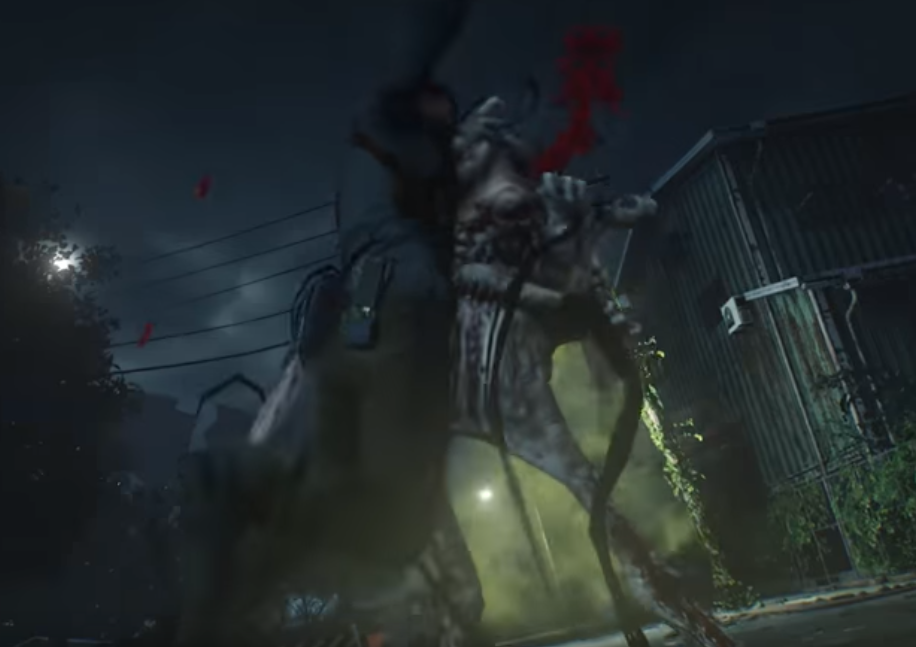 Sebastian leaps onto the sobbing gas monster we saw from the previous trailer, now here's something interesting. Between the last first-person scene and this scene it seems like maybe each monster has unique stealth-kill animations this time around, which would be an improvement. He leaps onto this monster and stabs it multiple times, which is a unique kill animation. It's kind of impressive how much work they're putting into the animation this time around.

We see the first improvement to the Agony Crossbow, in the original game the Crossbow was the game's system of letting you do 'traps' of sorts, but it was kind of limited. Here we see a new thing the Crossbow can do, which is apparently set Tripwires. Which as they're expanding gunplay and stealth elements as they've been slowly showing off, it's appreciated they're also expanding trap options with the Agony Crossbow.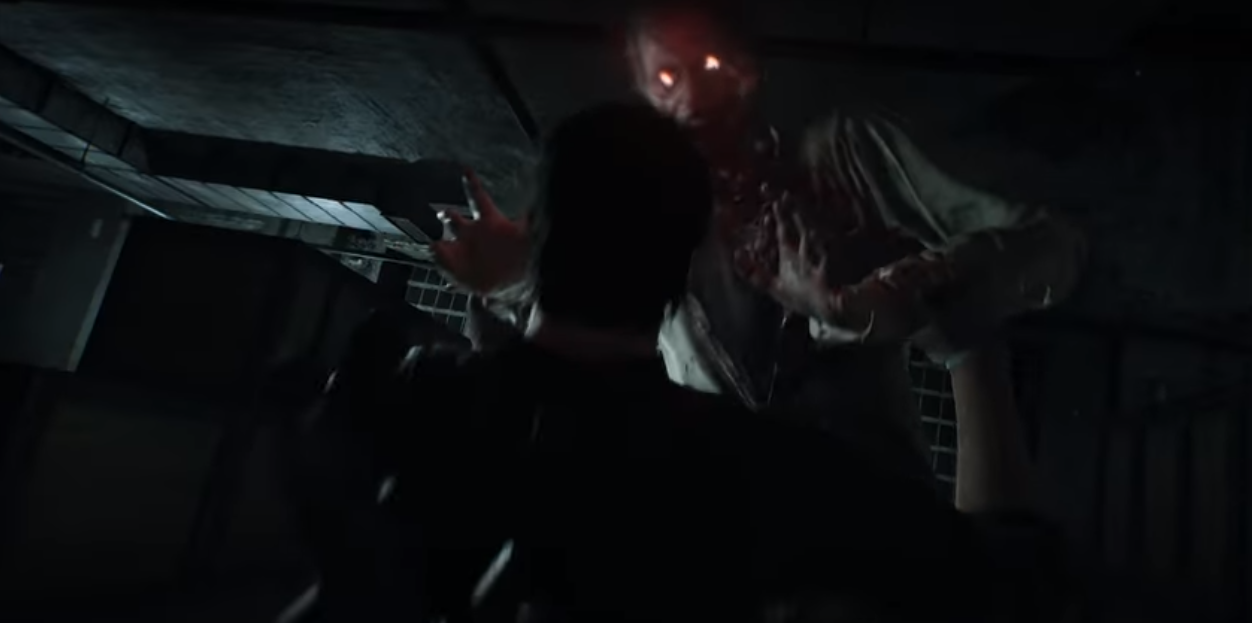 Sebastian struggles with one of the New Haunted which has grappled him but manages to throw it off and shove it away from him, implying there's a way to throw enemies off of you which grab you in this game with a bit of struggle (something which was limited in the original game).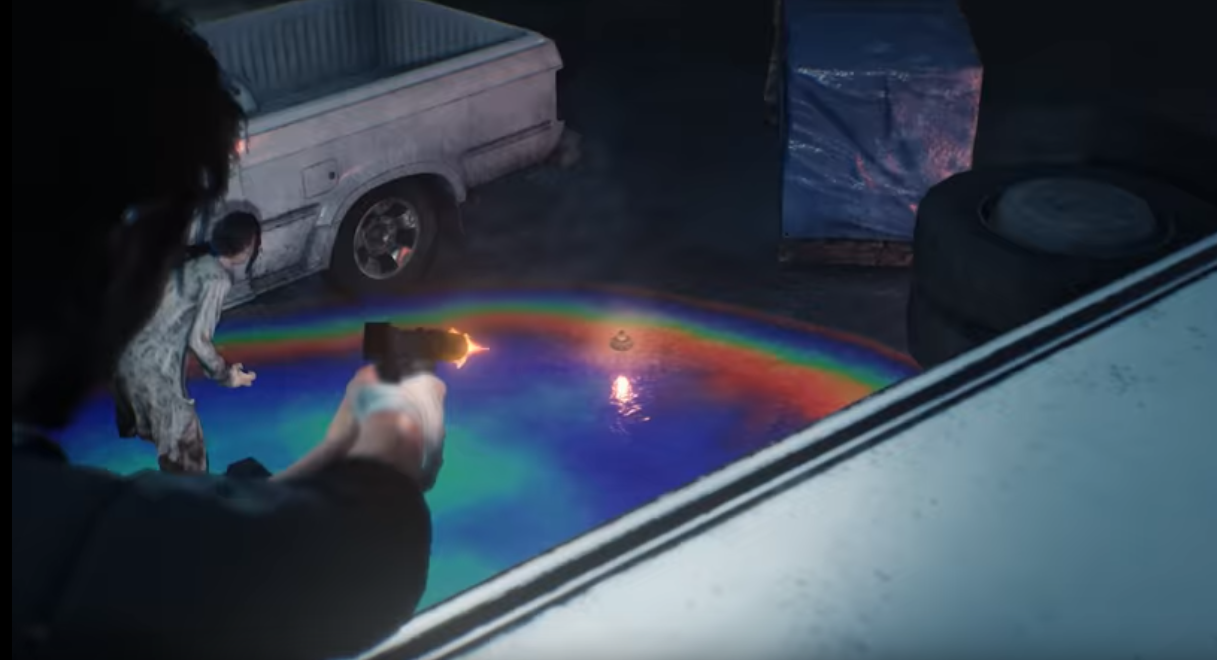 The Haunted seems attracted to something Sebastian laid out in some oil on the ground, I can't quite make out what it is (a mine?) but the enemy gets close to it as it seems attracted to it for some reason and then Sebastian shoots it, making both the mine explode and the oil set on fire. A bit overkill, but for demonstration purposes obviously.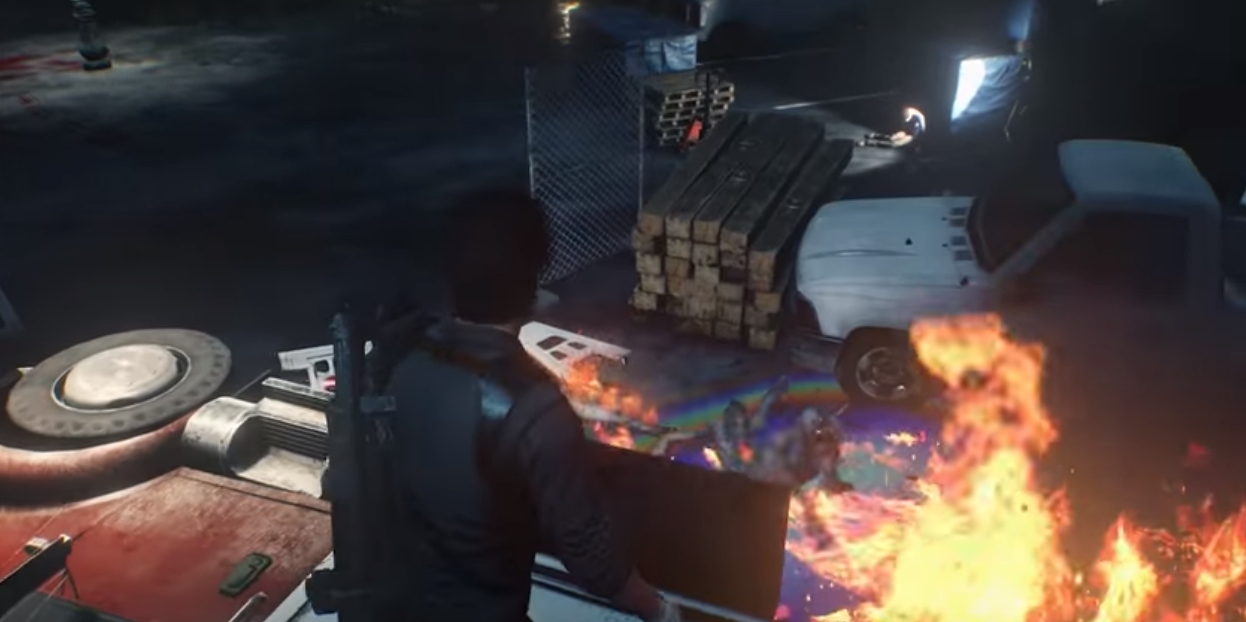 Apparently outside of the New Haunted, we also had one of the Crawlers, AND NOW THINGS COME TOGETHER. The brain enemy on the train we saw earlier is one of those crawling enemies we saw in the extended gameplay trailer which can leap and reveal a row of teeth. It wanders around Union and seems it was also attracted to whatever Sebastian through, it wasn't caught in the explosion but gets caught in the fire which follows from the oil.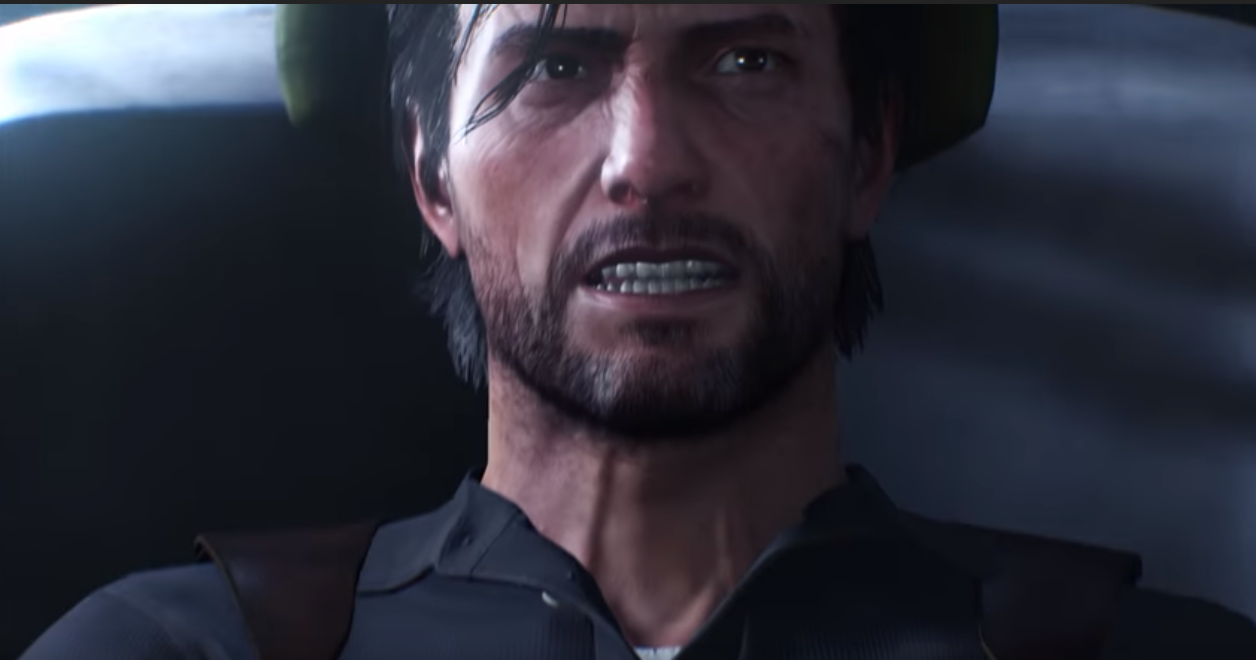 This seems to be when Sebastian enters STEM, the grey liquid (which notably seems a different shade than the white liquid featured elsewhere in the game) consumes him, and a nice animation detail is Sebastian's neck tenses up.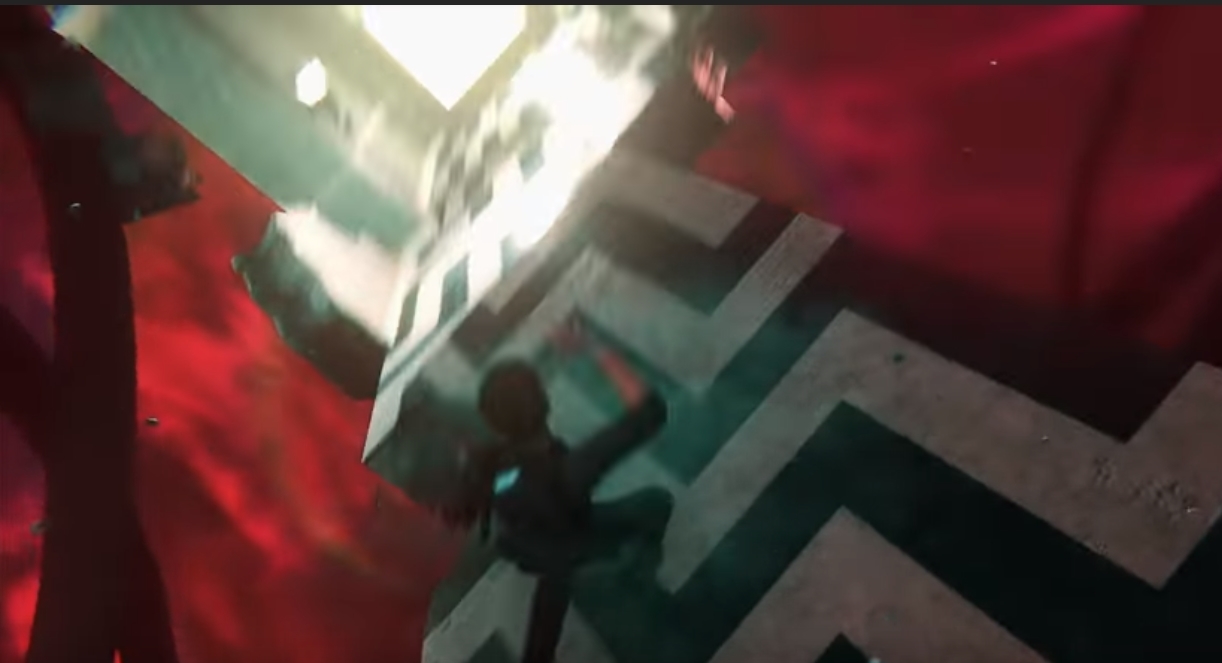 We see Sebastian in a broken reality with the floor from the art museum which is a nice Twin Peaks homage with the giant red tentacle monster, we hear it growl and then send an arm-like appendage after him: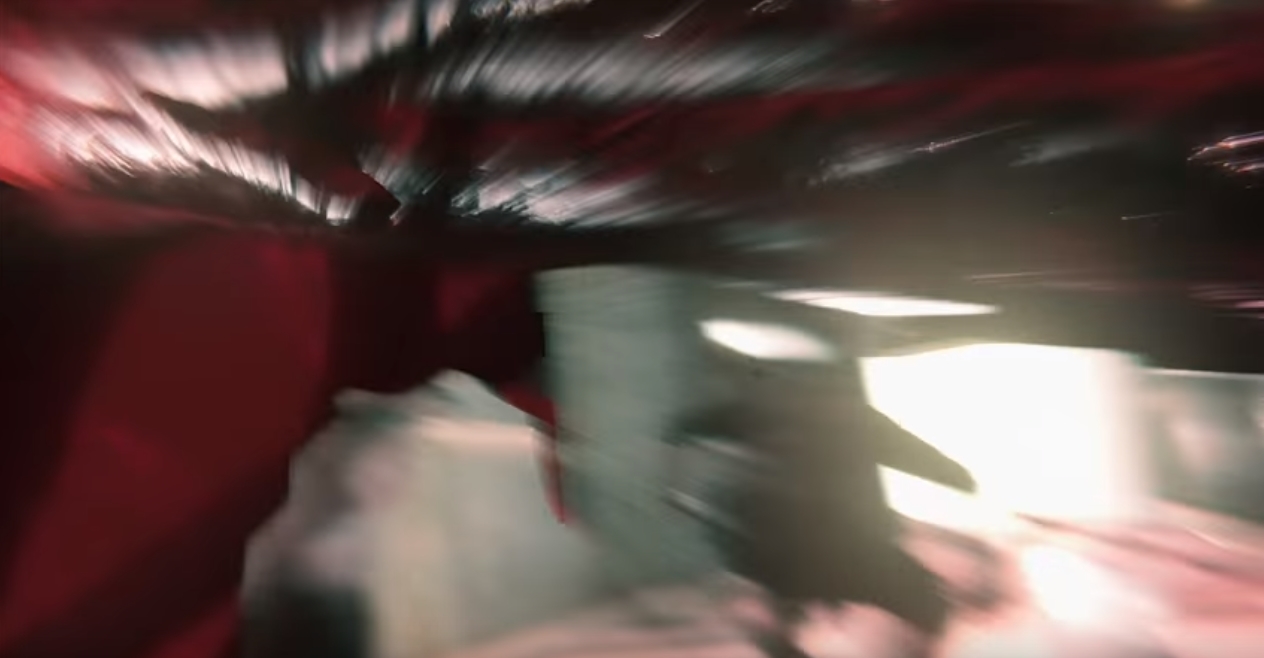 Colossal tentacle monster is not giving Sebastian any breaks it seems.
---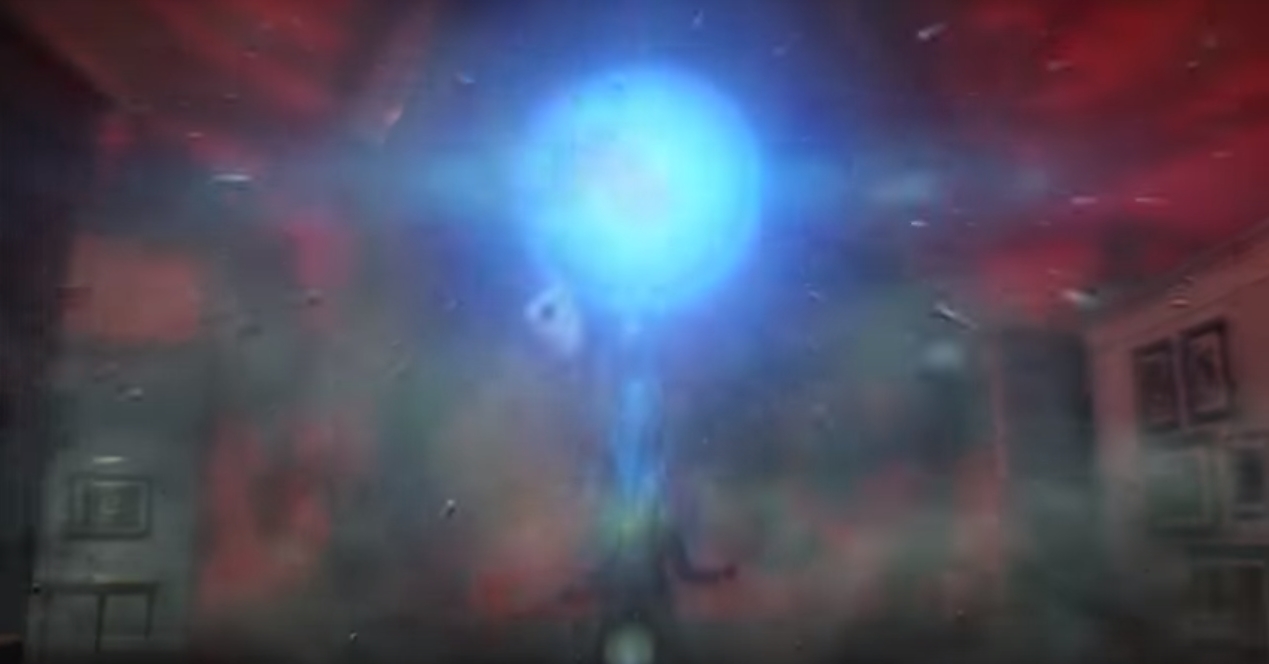 Here's an interesting scene, Stefano's giant glowing blue eye (which we now see Stegano actually has a glowing blue eye, so relevant) seems to be pulling some blue force from some monster his gaze has set upon. So you probably don't want to be seen by Stefano's giant blue eye.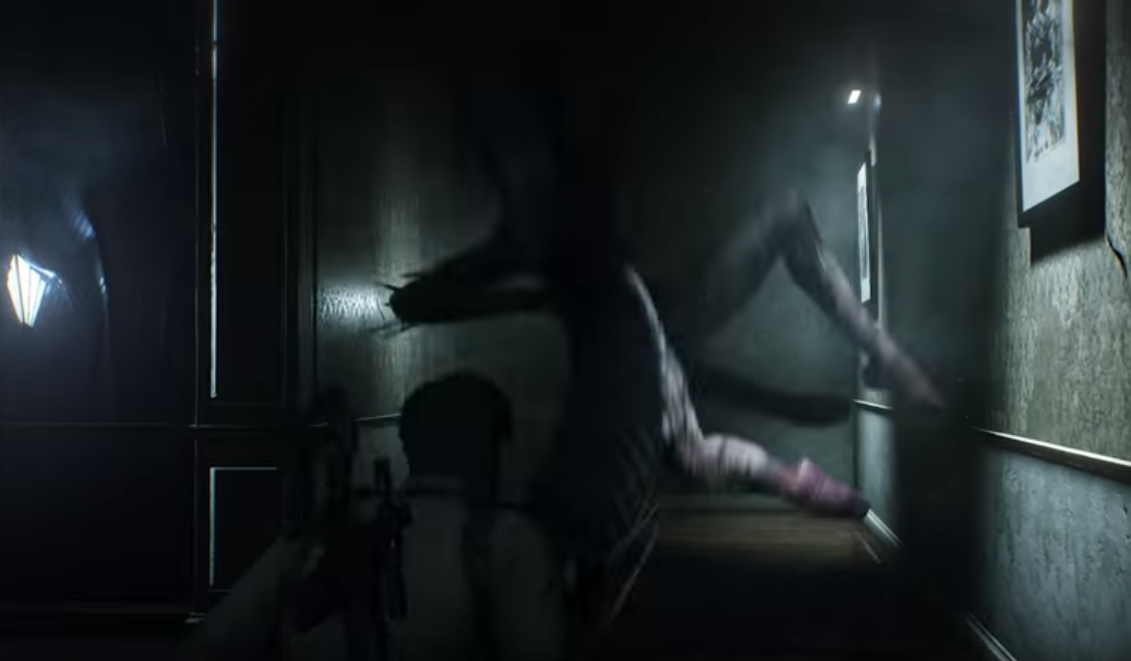 Obscura surprise leaps Sebastian from the ceiling.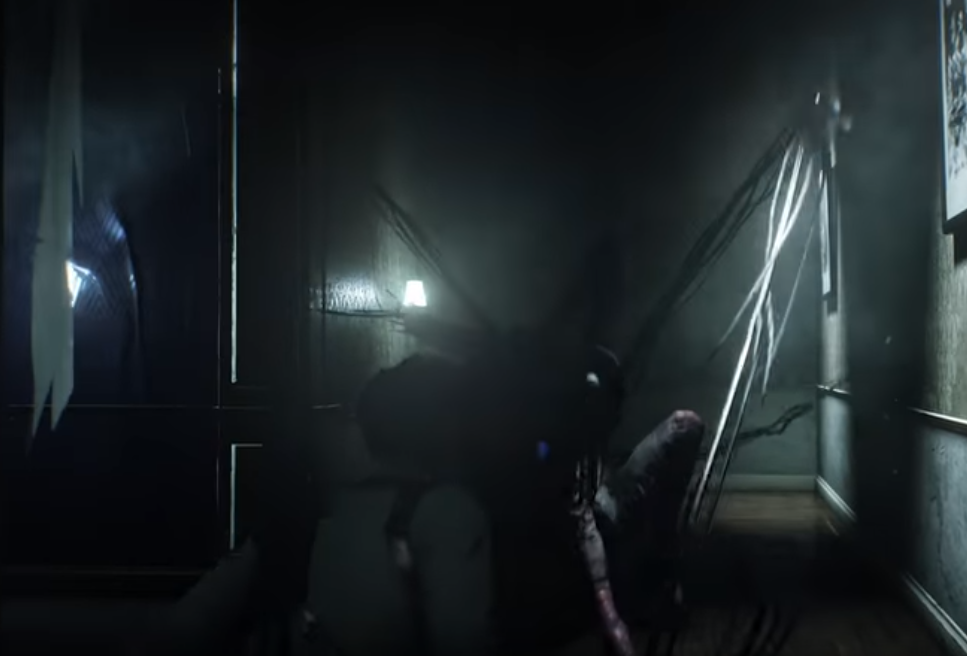 Seems Obscura can use barbwire in an interestingly menacing way.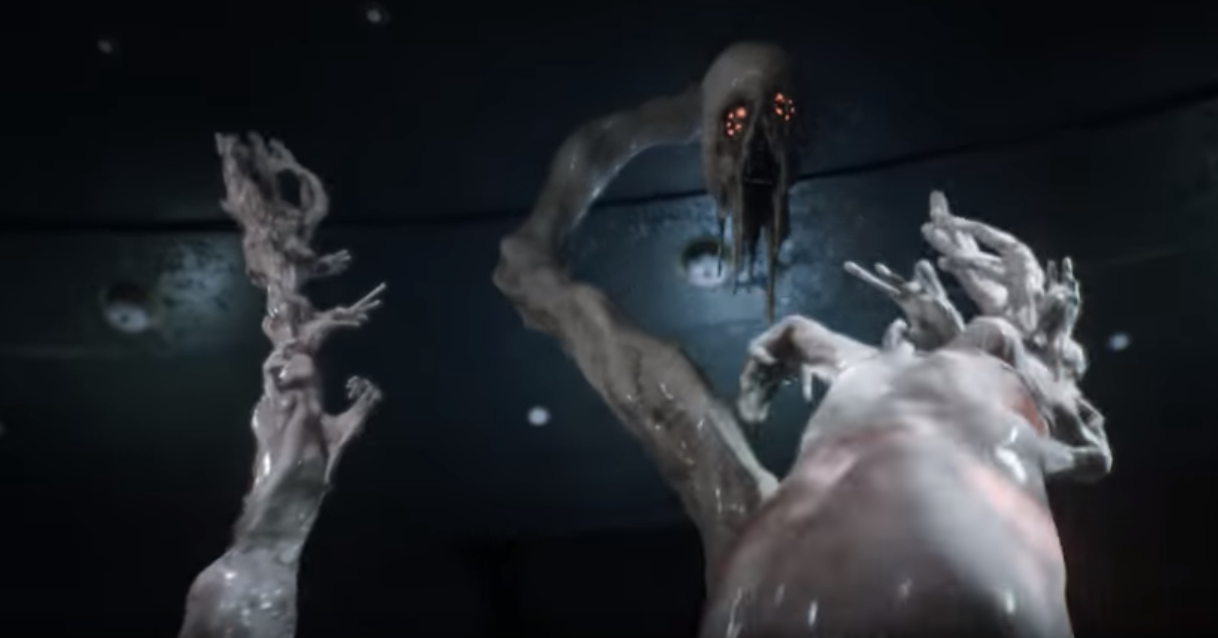 Now this is interesting. We see the White Ooze take on the form of a monster, this is related to what we saw in the Extended Gameplay Trailer with the giant white ooze arms coming at him. Seems those arms are made up of dozens of New Haunted caught up in the white ooze to form this things arms.

We see our first in-gameplay look at Sawblade Laura as well, who honestly looks like some terrifying Nemesis-like creature here. She bursts through a glass wall, and similar to the other white ooze being we saw earlier seems to have taken on this form with the white ooze as well.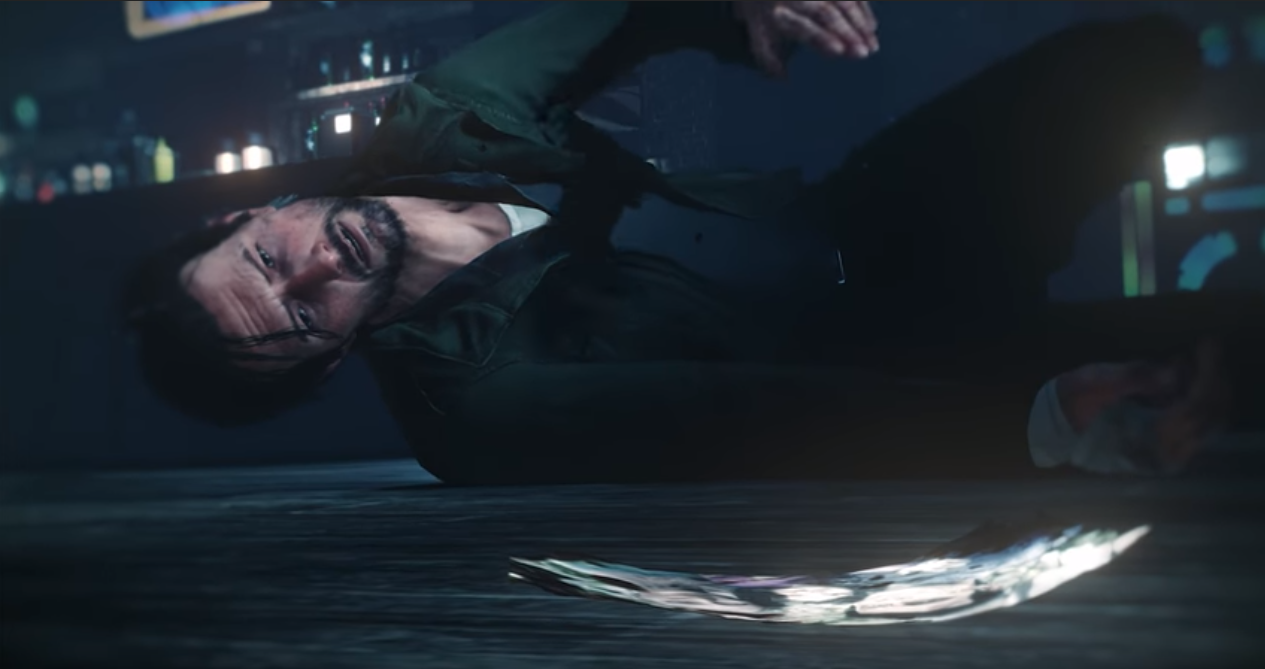 Sebastian is laying on the floor reaching for a burnt picture of his family in a bar as we hear whispers saying, "It's all your fault." Seems Sebastian's going to have some battle with his alcoholic side during this too?
---
And that's the survive trailer! Hope my little analysis was interesting for you guys.