So the following is a breakdown of everything shown for the game on its reveal, starting with the trailer. I bet there will be more media coming in the next few days, with this game releasing in 4 months I can't imagine it won't be playable at E3 and we won't see more, so with all this said here's my delve into what is shown, said, and shared.
---
Taking place three years after the original game, we join Sebastian Castellanos as no one has believed him about what happened at Beacon and he wants answers to what he experienced. Julie Kidman from the original game suddenly reappears in his life and gives him a chance to save his daughter, Lily has been kept as an experiment inside Mobius. There is a chance he can save her if he enters STEM and goes inside the mind of his own daughter. Something to mention, the original game is set inside Ruvik's mind, but this game is set in Lily's mind, the mind of a young girl who has been through traumatic experiences. One of the selling points of the game is that the game will feature a mixture of more linear segments and 'big, explorable' levels you can either rush through or explore and do a lot of optional shit in. They show a bit of both in the new trailer, and I'll get to that.
It takes place in a city named Union, which is the central location of the game. This might miss some people, but Union is this game's 'hub world' like the first game's place you could upgrade and use keys, but now a full-fledged explorable town like Silent Hill. It seems changes to the town happens over the course of the game, you go to areas in the game from Union, and there's even new optional sidequests, locations, and more.
Sebastian is also teamed-up with Julie Kidman, a now rogue former Mobius Agent who feels like she owes it to Sebastian to help him save his daughter after he trained and took her in and she betrayed him in the original game. She has given Sebastian a device that allows him to stay connected to the real world as he is inside the STEM, to have a line in with Kidman in the real world. There's a deep implication we may even have some playable segments with Kidman in the real world while Sebastian is inside the STEM, but that's more theory of suggestion and some coyness I am interpreting there. The device that Kidman gives you can not only talk with Kidman, but it also allows Sebastian to get a general idea if supplies are nearby, point towards the next main area to go to, locate side-quest or areas 'strange activity' is happening at, and locate where Lily is as she leaves her imprints on her own mindscape. Sebastian apparently actually shows his detective skills in this game, it's loosely hinted at but there seems to be some scenes Sebastian has to solve in optional puzzles to open up new possibilities taking part in optional and sometimes required things.
The game is confirmed to be split into several stages aiming to be unique and original with 'Union' being the central point connecting them one more time. Now with all of this information out of the way, here's some proper trailer analysis:
---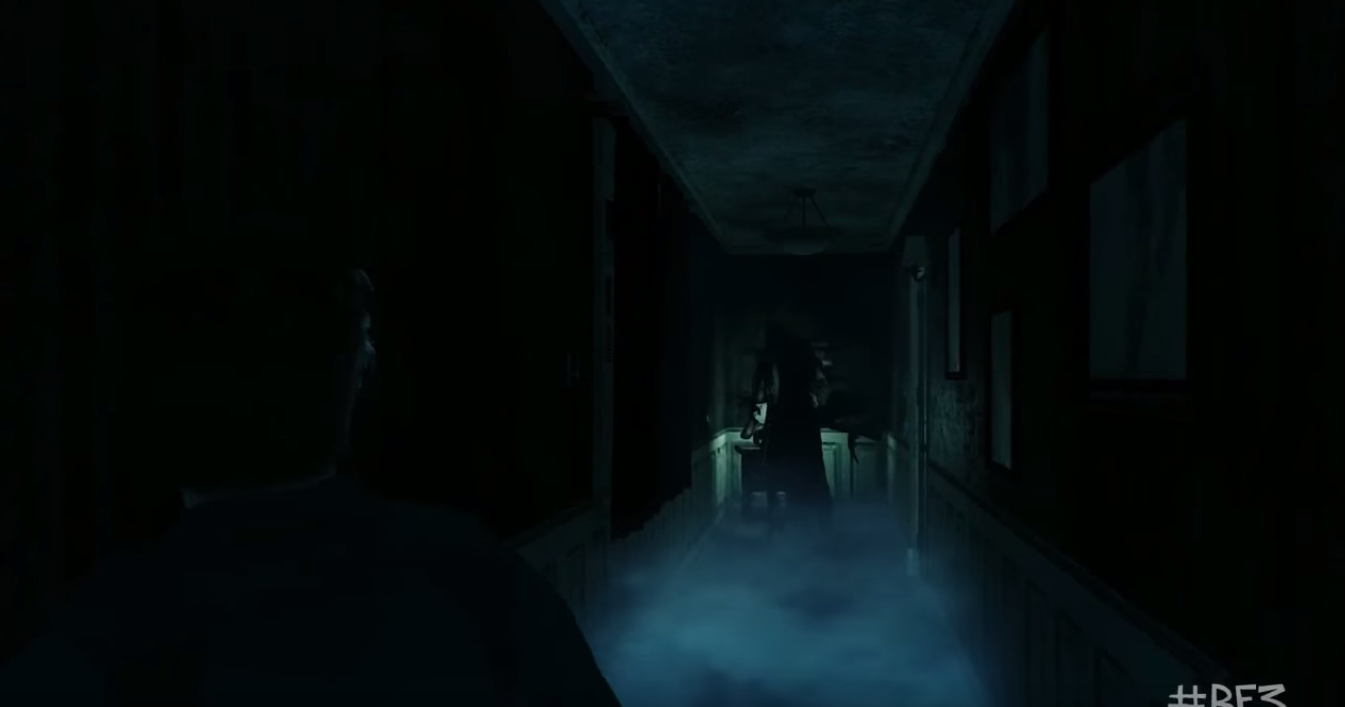 One of the stages seems to be a nightmarish version of the house that Lily, Sebastian, & Myra lived in that burnt down and Sebastian believed his daughter died in originally. The house appears multiple times in the trailer and is visible in gameplay at several points, certainly confirming it as one of the 'levels'.
The monster speeds up and reveals its Laura, given it seems to be a new form of her we've never seen before: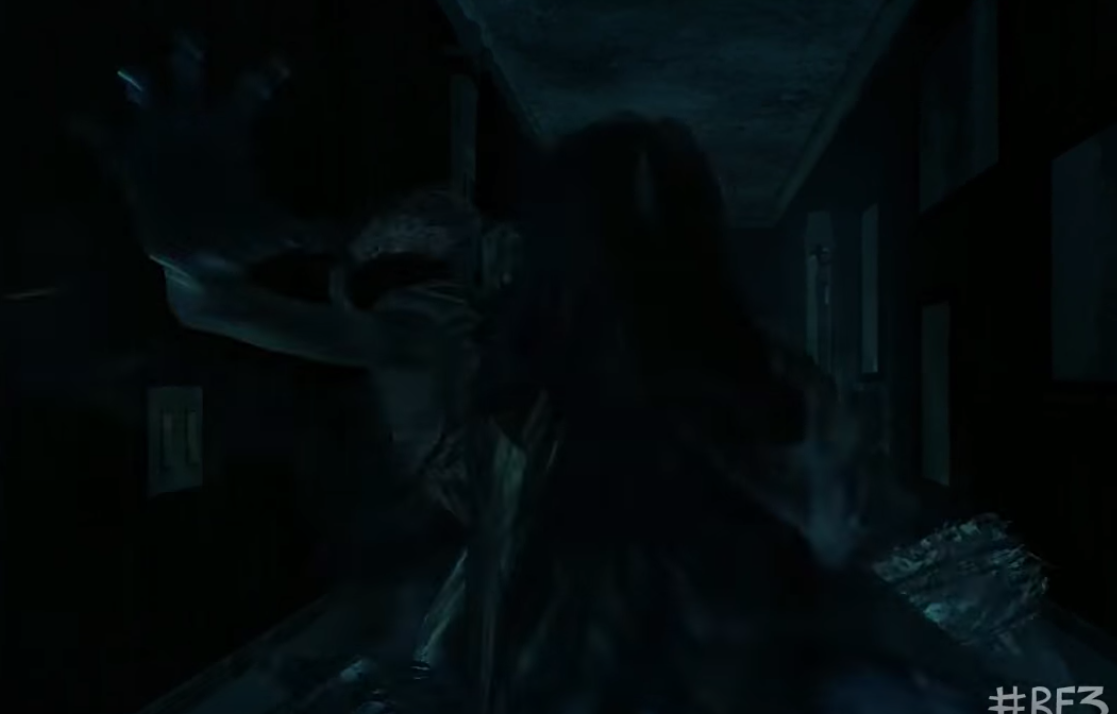 The classic Laura is seen briefly, and we'll get to that, but it seems we'll see multiple forms of Laura. THEORY TIME: Laura is still alive as confirmed in the original TEW, but left as a vegetable. Like how the original game was in Ruvik's mind but other people's consciousness was put inside, I will bet you Laura's vegetative conscious was connected to Lily's STEM which is why we see so much of Laura at multiple points in this trailer. I'll bet you even also from some things shown in the trailer that Lily and Laura have become friends, creepy ass friends, in their mindscape together. We'll get to that.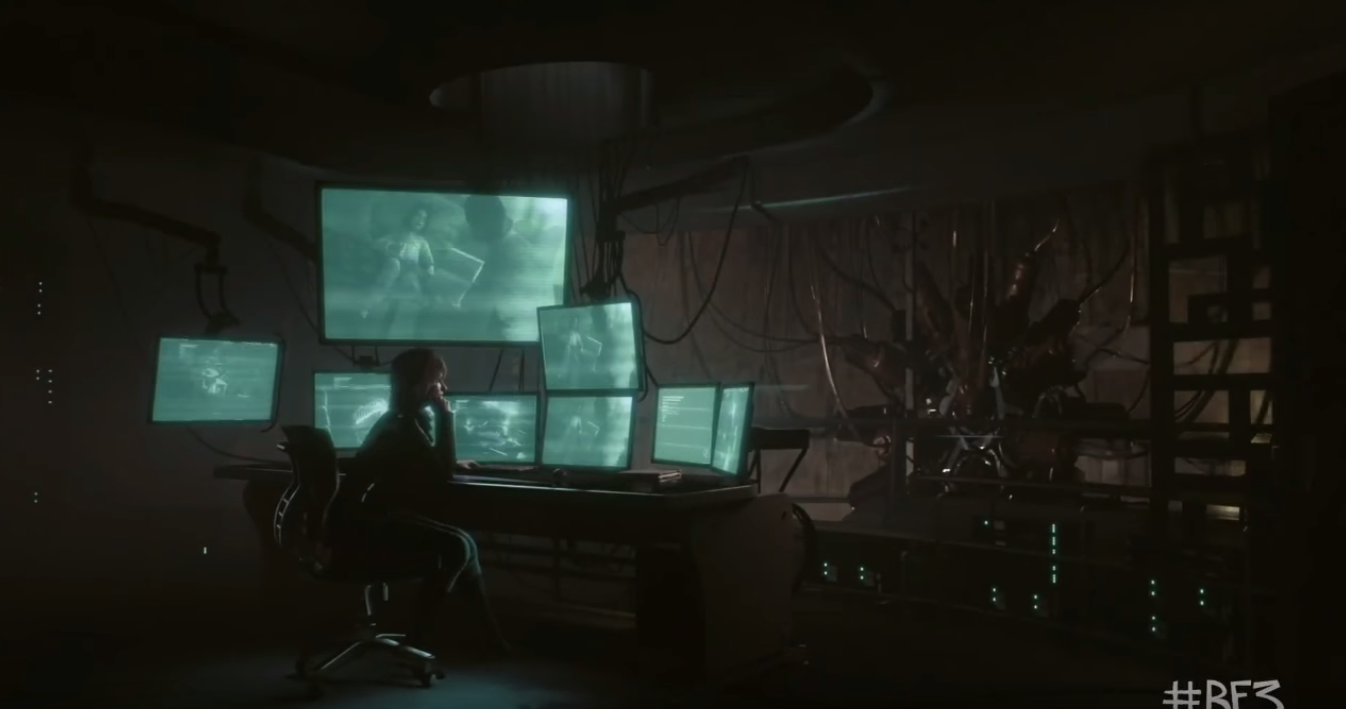 Here we see a picture of the 'real world', the STEM has become bigger and more cyberpunk since we last saw it. Mobius seems to have made their own STEM since Ruvik leaving. Kidman watches and supervises from the real world to keep tabs and a line-in with Sebastian. On the monitor in the background we see Lily in a bed, probably in her mindscape, and we see a woman, who I am guessing is Myra (the mother) attending to her as she seems to be in a kid's bedroom.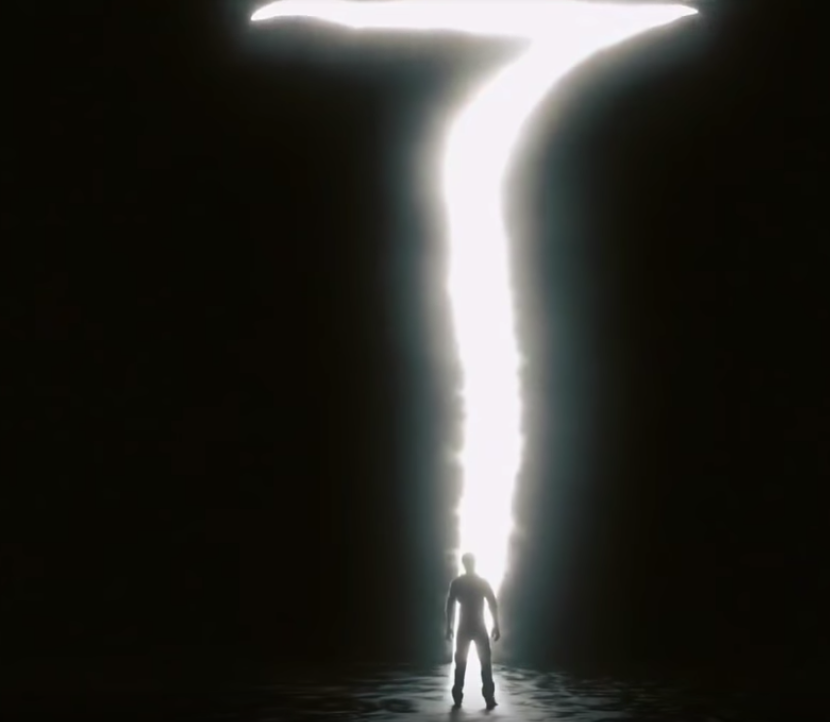 This shot is pretty clear with all the context, it's Sebastian entering through the Mobius sign. Sebastian also see's Lily inside the Mobius sign, meaning to reach his daughter he needs to get through Mobius (Mobius was the shady organization from the original TEW, it was in the background of the original game but played a bigger role in the DLC and seems it will play a bigger role in the sequel too).
We see Sebastian laying down on a children's bed (almost positively his daughters), it then corrodes over in a very Silent Hill way and then turns to dist, which leads Sebastian to fall into Lily's subconscious (symbolism of a CG trailer and all that).

Sebastian entering the STEM.
We then see the 'White Ooze', and we'll get to that as I think it's more interesting and disturbing than you guys may think...
In the white ooze we see a lot of children's objects float by, a child's ball, a tricycle, a doll, etc. We then see a number of faces together, several smaller and one bigger. The bigger face has something under its skin. This is symbolism to something later in the trailer we'll get to, but for now I'll say the bigger head is probably connected to the smaller heads, symbolizing the STEM or a 'family unit'. I'll get back to what I'm saying here, but onwards.
We enter the mouth of the biggest head and see Sebastian running through the forest to find his house on fire. This is a memory of Sebastian's, implying we may go through more of his memories in the game now. We see the house fire and Lily slam against the window, then Sebastian at the ashes holding one of her dolls. The doll and the ground turn to black goop which then turns to white goop that forms hands as it begins to slide up Sebastian's arm and drag him in.
In the next white goop scene, a police badge hits the screen, then a burnt corpse, and then an upside down world full of objects. This isn't Lily's mindscape, this is Sebastian's. The objects are more obscured but a cup of coffee and what looks like a cane flash by, maybe related to Sebastian's past. We then approach another giant white face with something under the skin. This one opens its eye and we see its pupil is a camera shutter, the shutter opens and we go inside the eye.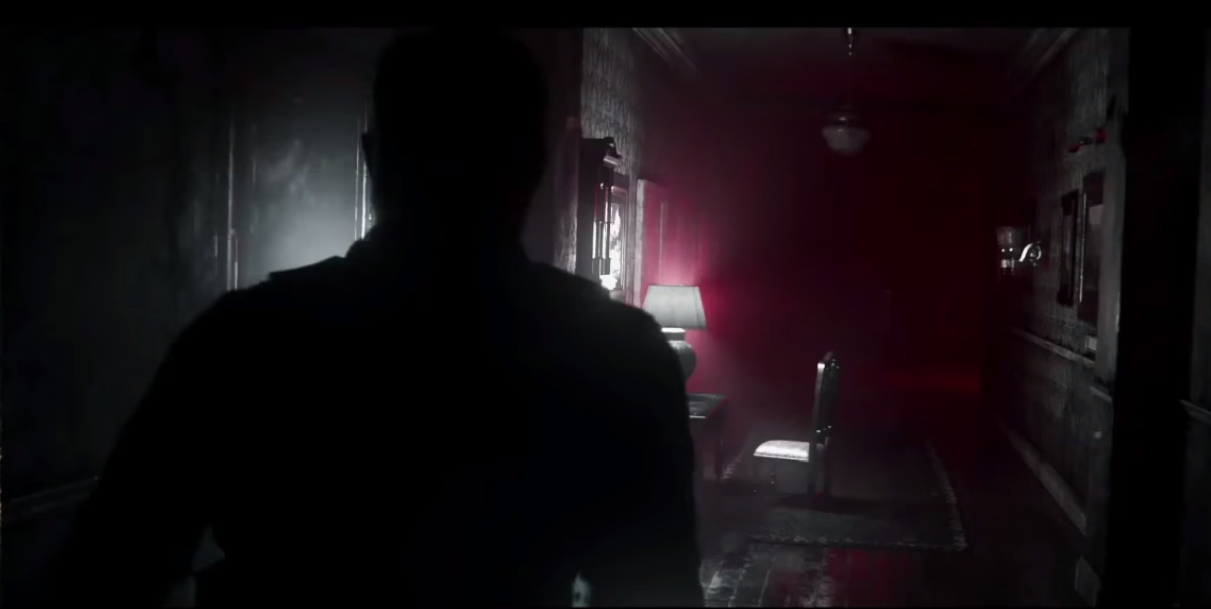 We now see the house from the first bit of gameplay again but in CG with a red tone. Sebastian notably is holding a flashlight in one hand and a gun in the other, implying a flashlight may be a usable item in this game. A chair poltergeists across the hall, Sebastian hears a creepy laugh and then turns around. A message written in what looks like Paint, not blood (too purple for blood) reads, "Appreciate the Art," which might be a gameplay thing as the House is notably full of paintings on every wall, maybe related to a gimmick of the area? When Sebastian turns back around the hall is now littered with hanging upside down corpses in plastic bags with nooses around their necks. Notably all the corpses seem to be of the same person, but who this is isn't revealed. As they're wrapped in plastic bags, my bet is on a murder case Sebastian may have failed in the past or someone he knew who was murdered.
Sebastian pushes aside the hanging corpses and see's a police officer look towards Sebastian directly and then get stabbed by a figure who teleports to him. This is notably a reference to the opening of the original Evil Within, the officer is the same and dies in the way that Ruvik killed the officers Sebastian saw on the camera in the opening of the original Evil Within. The figure that stabs him is too concealed in shadows to tell who it is, but I have a loose theory involved with the scenes that follow.
The officer stabbed is now left floating in midair as Sebastian pulls out his gun (notably the same basic pistol from the original Evil Within I believe). He investigates the corpse and with the flashlight we briefly see the officer corpse floating is wearing a theater mask.
What some people may not notice is the floating figure is actually trapped in a cube, it looks like a cube where time has frozen in: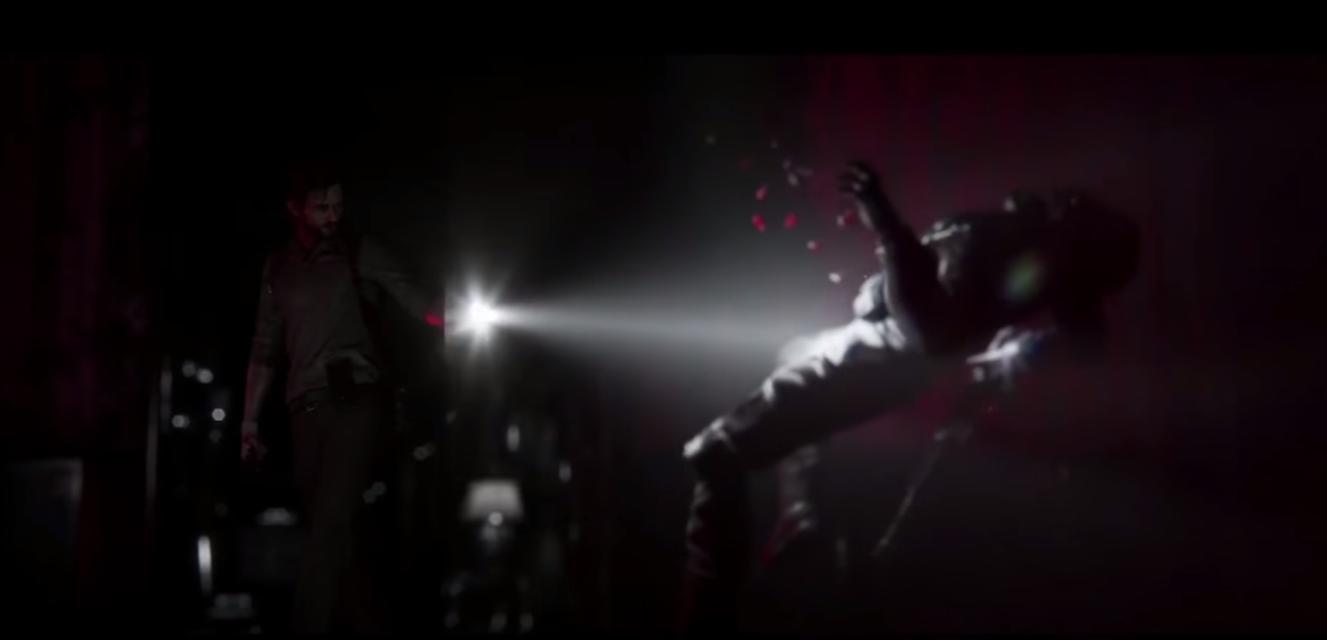 There's an invisible cube the flashlight reveals that the figure floating seems to be within.
We then see a few 'black goop sculpture' people (something we'll see more of) flash by. The first is of Lily reaching out, the second is of figure holding a knife, then a gun firing, then of the knife the figure was holding itself, and then ends with a figure with a bullet wound in the face and gloves flashing a camera: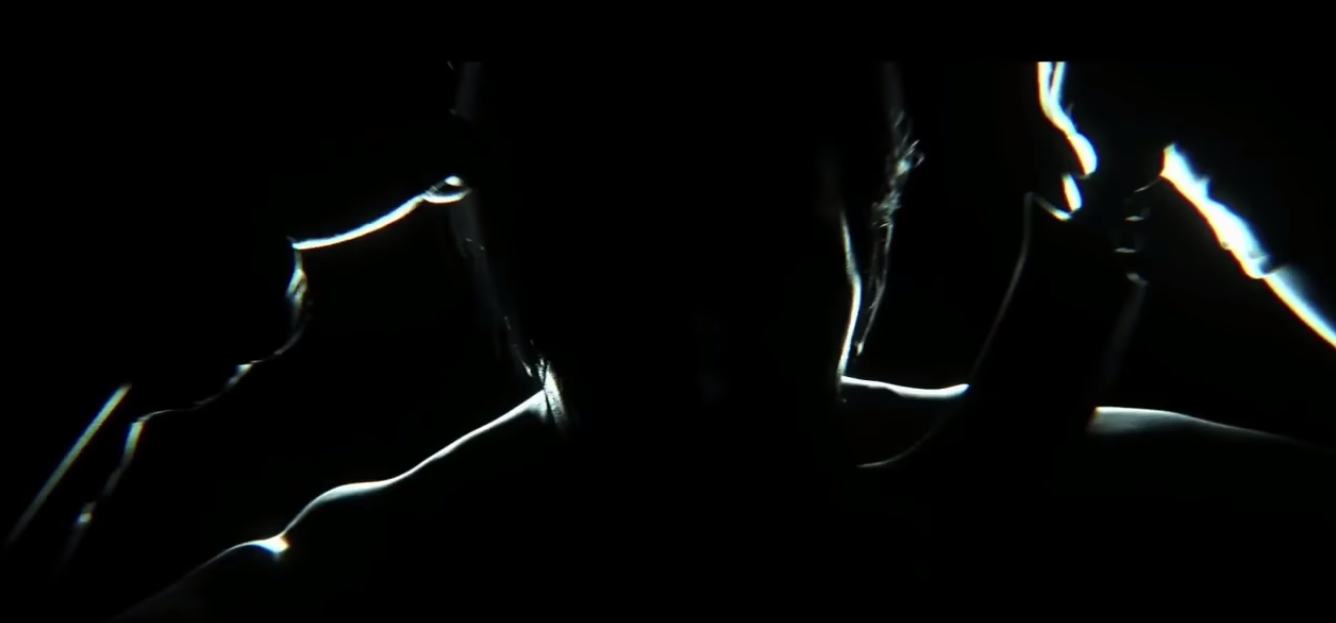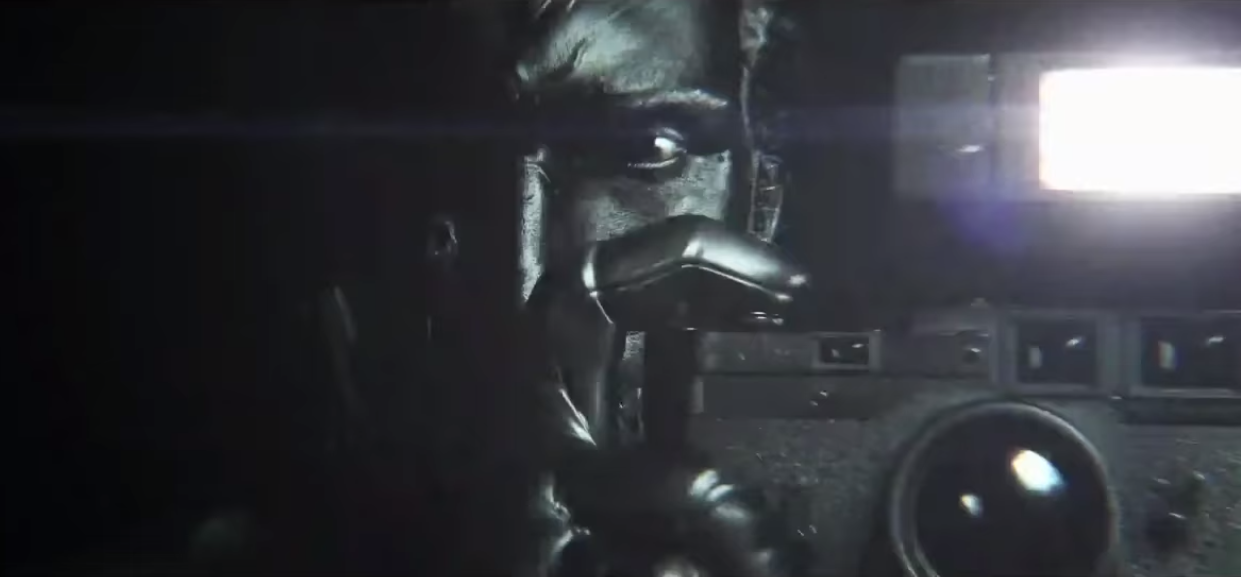 Now, something I will mention. Tango released this piece of concept art that is relevant to what just happened and is about to happen:
This character is only seen clearly in this concept art, but is important in the trailer. He is the one wielding the knife and seems to have something to do with the camera motif you'll begin to notice in the trailer. My crackpot theory is that it might be Leslie grown up by three years and with dyed hair with Ruvik's personality controlling, but that has very little evidence and there's nothing you can solidfy about the guy right now except he seems he's important to the sequel, the knife implies he's a murderer, and he has some thing for cameras and mannequins. Also I believe this is the figure who stabs the officer in the same way Ruvik did earlier, which might play into this theory.
Now back to the trailer...
Sebastian looks around the room and spots something crawling against the wall, he shines a light on it and it runs away to the ceiling, and then reveals there it has a camera for a head and flashes it. We also see it later in gameplay in the house location, so this is definitely a new monster.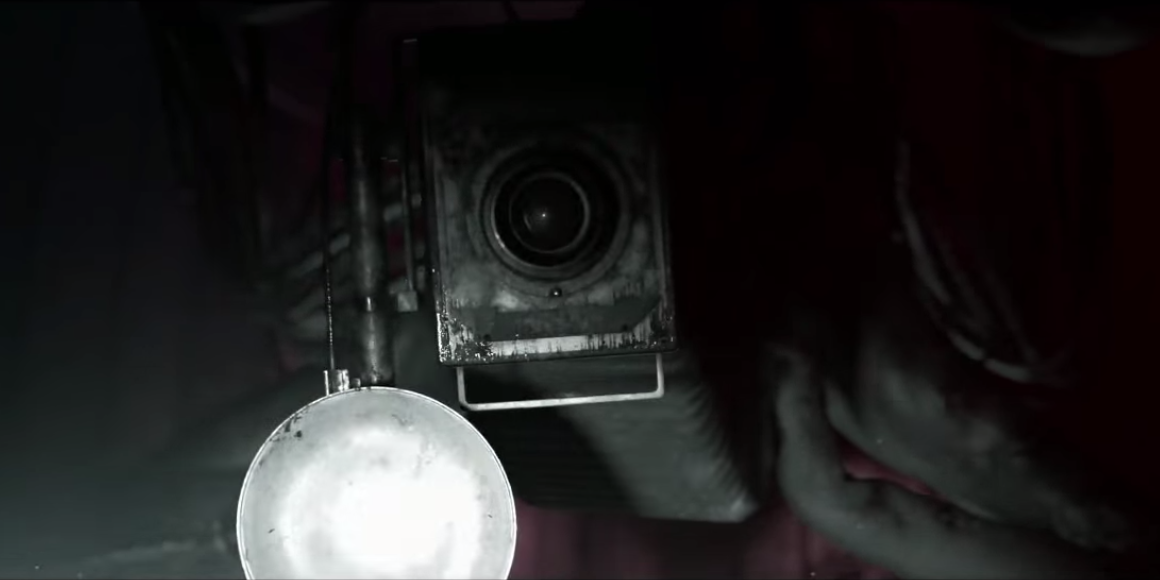 We go to another white goop scene, this one featuring dotted lines, a crow drowning, and a hand with fingers bending back. Due to how the trailer first show what seemed to be Lily's subconscious in the goop, and then Sebastian's, I take it this subconscious is of a third characters, maybe the man in the concept art?
The white goop then turns black and the hand adjusts itself to show us a preacher in a forest made of black goop in a sculpture like we saw earlier. The scene that occurs here is clearly of a cult, and it seems that Lily was abducted by the cult because she is here as well (the original game implied the cult started the fire to abduct Lily, so this seems to confirm that). This also basically confirms the cult you see briefly in Chapter 6 & 7 of the original game are back for the sequel and going to be expanded upon. Ruvik's father in the original game gave great sums of money to the cult to operate. One note is the preacher has a very distinct marking on his cheek.
So the Cult guy seems to summon fire to himself as Sebastian runs through a field of black goop sculpture followers, Lily turns towards him and then is set on fire. Sebastian then turns to see a monster heading towards him.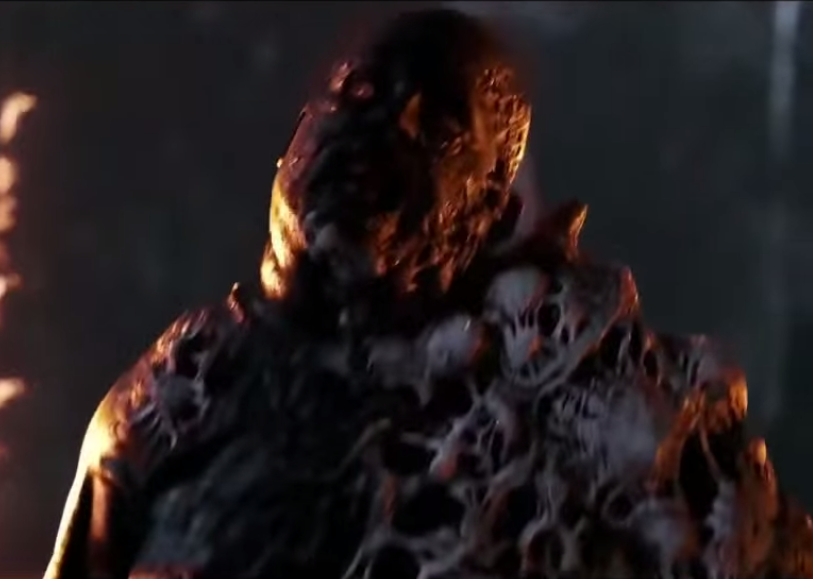 Now, these monsters seem to be the new "Haunted", they are now covered in some kind of goop across them. It seems the goop comes from inside of them though as we see boils across the body that are just FULL of this goop.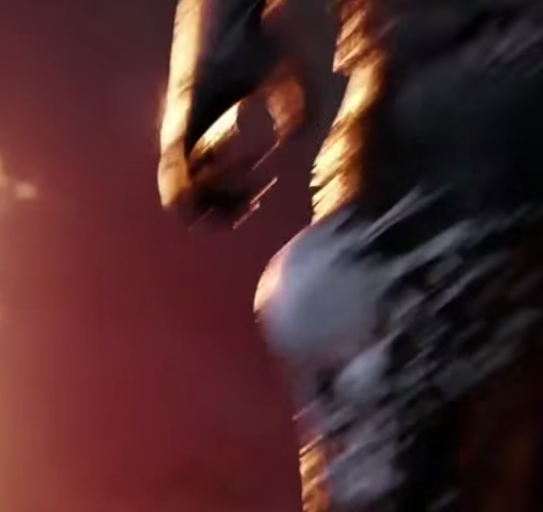 The other members of the crowd have also turned into this new form of "Haunted" and they ooze onto the ground with the white goop: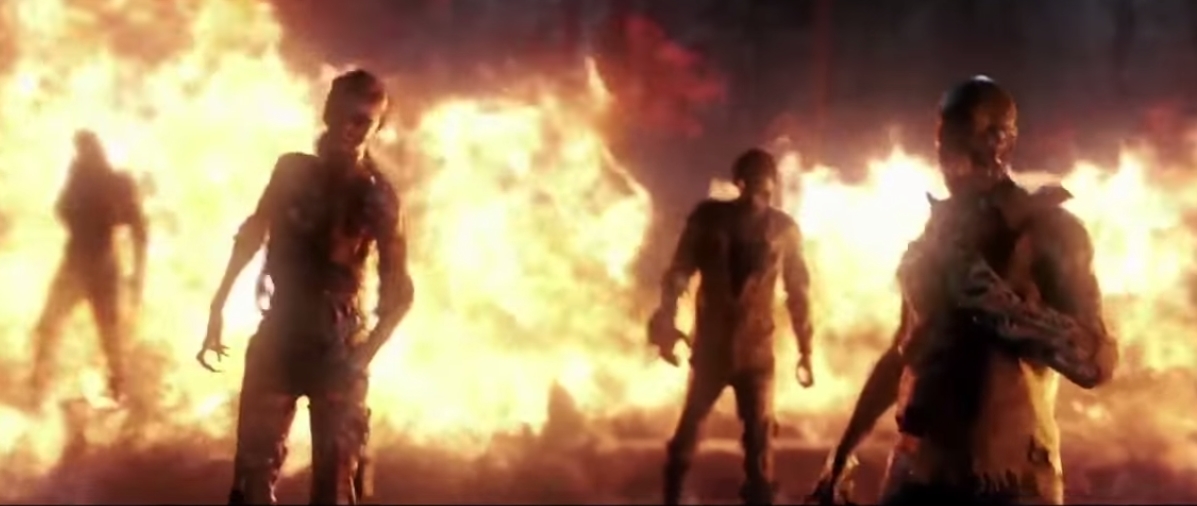 Crows begin to circle the goop then merge into it. Sebastian tries to emerge from the goop, but Laura's hands drag him back in. Then kick to The Evil Wtihin 2 logo.
Now the gameplay.
---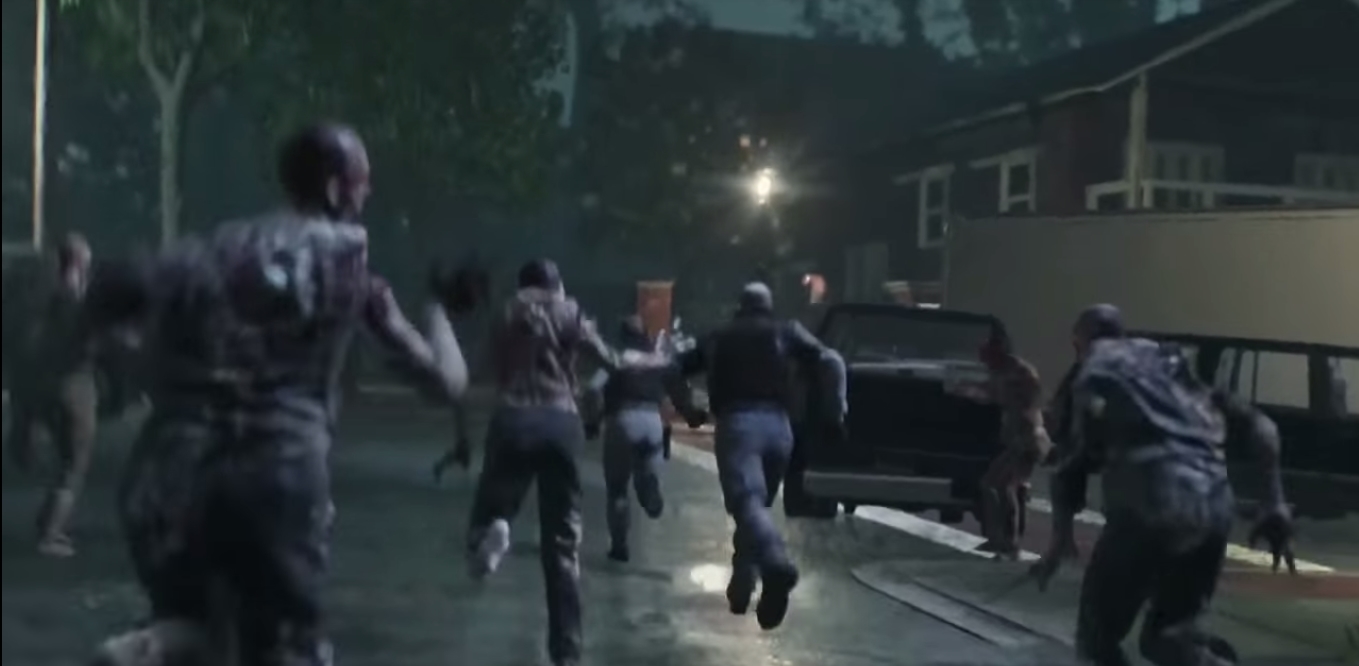 A crowd of the new "Haunted" we see run through the streets of what one must assume is Union, this is probably part of the town you can explore as it looks like a neighborhood. Notably we see a couple yell to the sky before they begin to join the horde.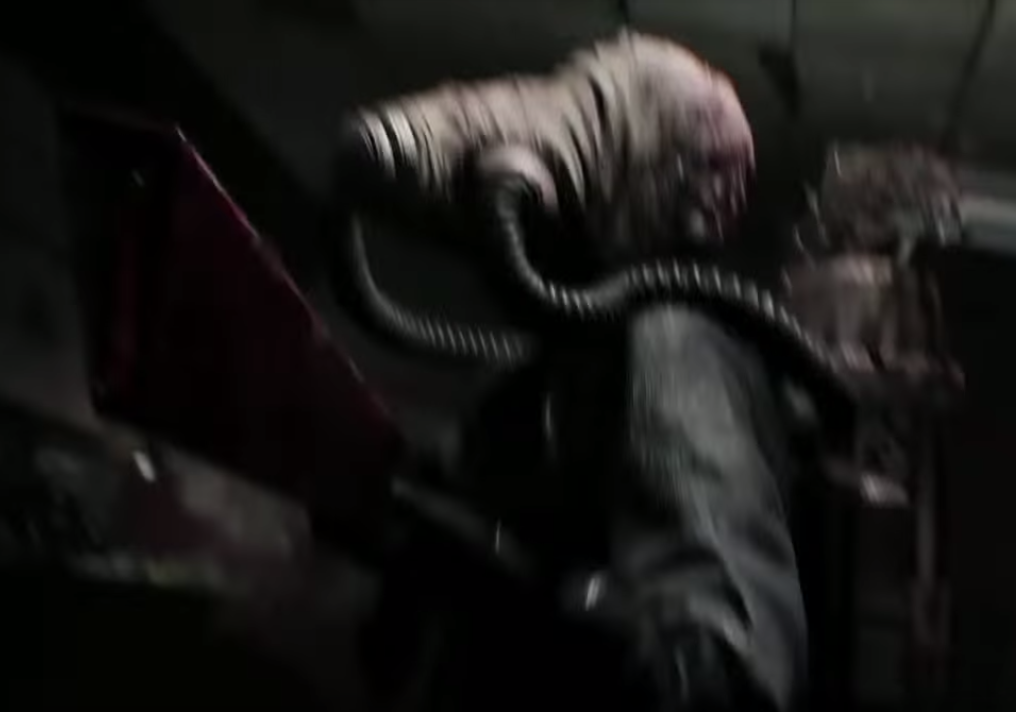 We then see this cool guy with the animal-styled gas mask and a flamethrower. He seems to be either a bigger enemy or boss monster, and likely he represents the cultist who burnt the house down. We see him more in gameplay in just a bit, but not much is gained from the bit later except the door out is blocked with fire.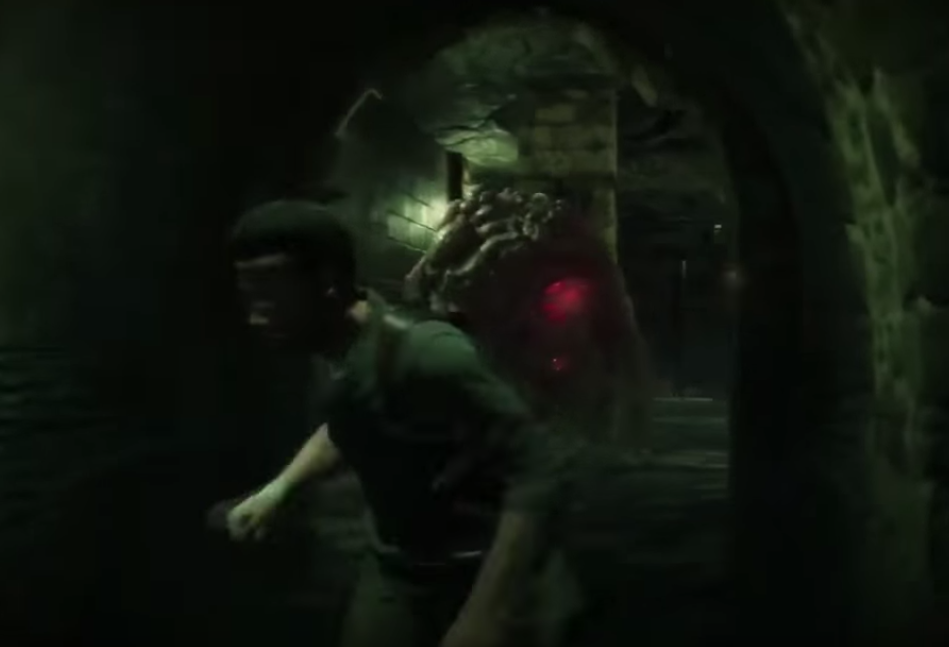 We see Sebastian in some catacombs of some kind with a giant enemy that appears to be able to explode when close.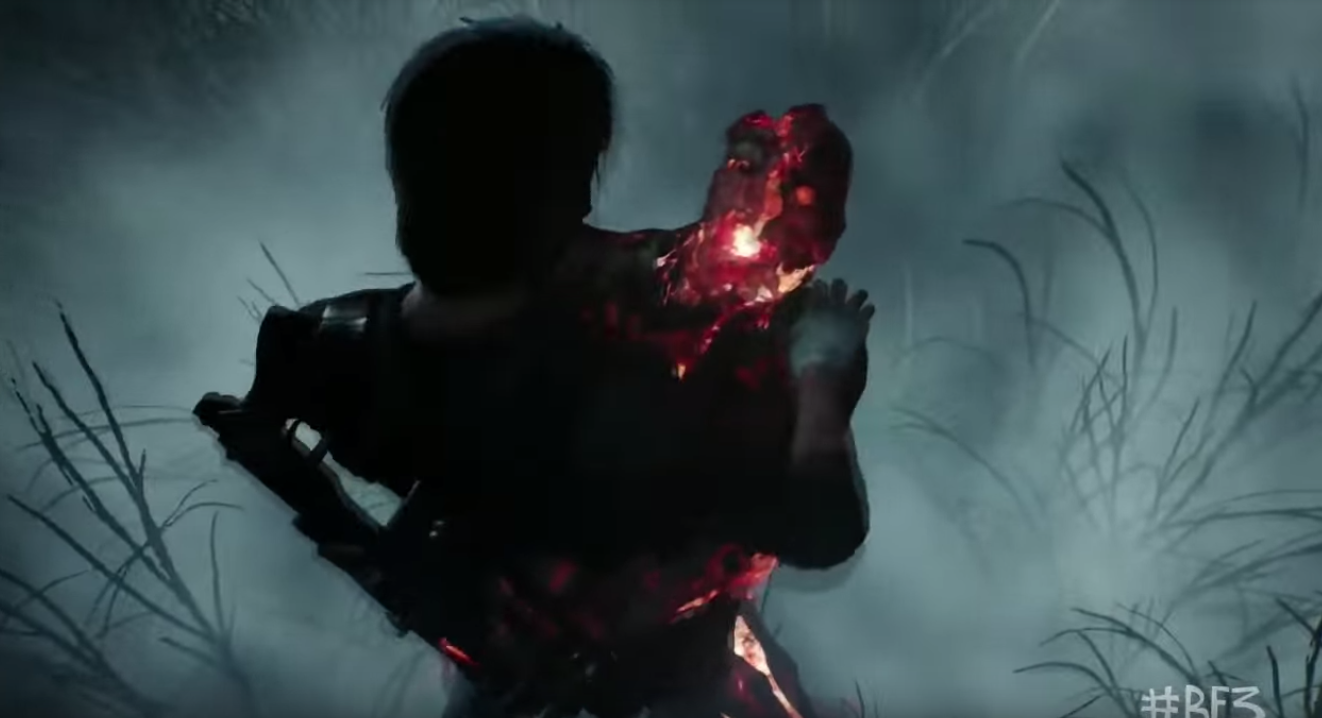 We see Sebastian lifted into the air inside of a forest location (looks like the one with the priest we saw in the CG scene earlier) by this ugly glowing giant. The giant seems to be at least twice the size of Sebastian.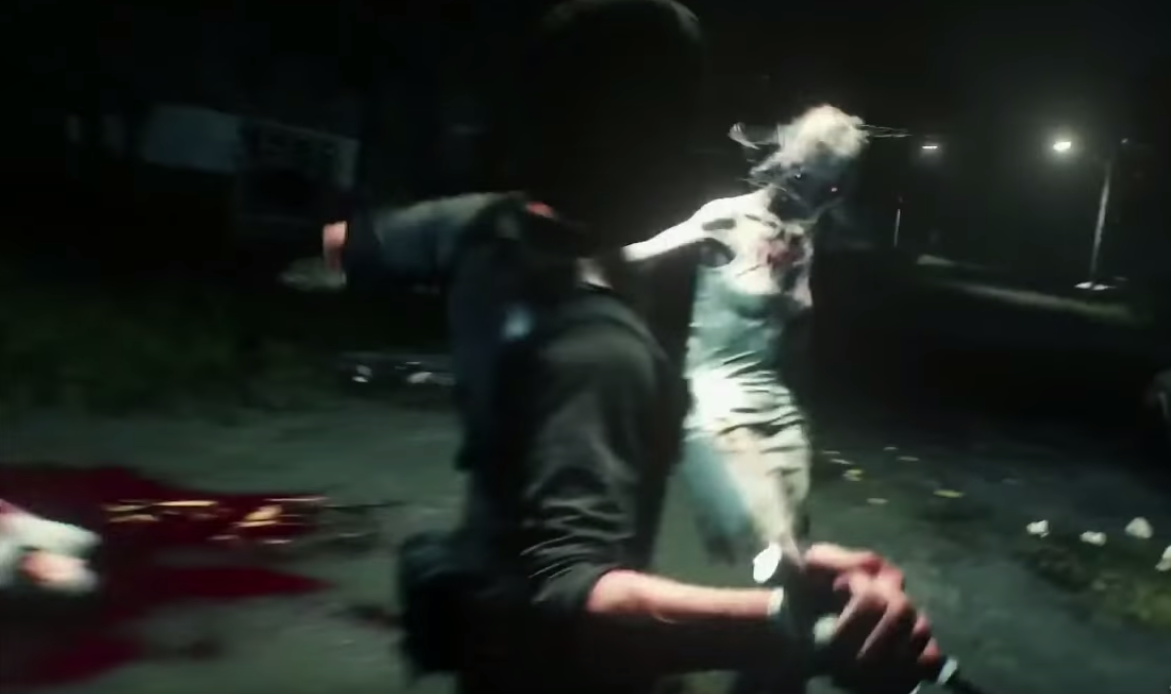 We see Sebastian dodge backgrounds from a knife swing from one of the new "Haunted" in a female form, WHICH CONFIRMS the new game has a dodge maneuver of some kind. NOTABLE: Sebastian himself is carrying a knife as a weapon, confirming melee weapons. He also seems to be in a country neighborhood.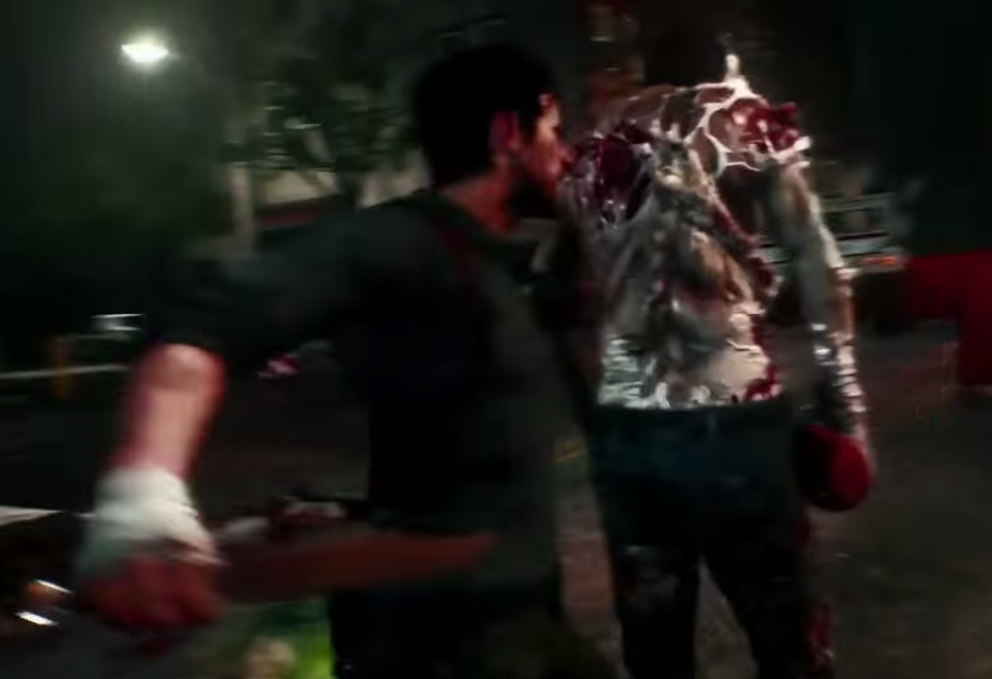 We see Sebastian doing a stealth kill on one of the new "Haunted" in a more public city location, notably there is a lit up building ahead that looks like he can enter.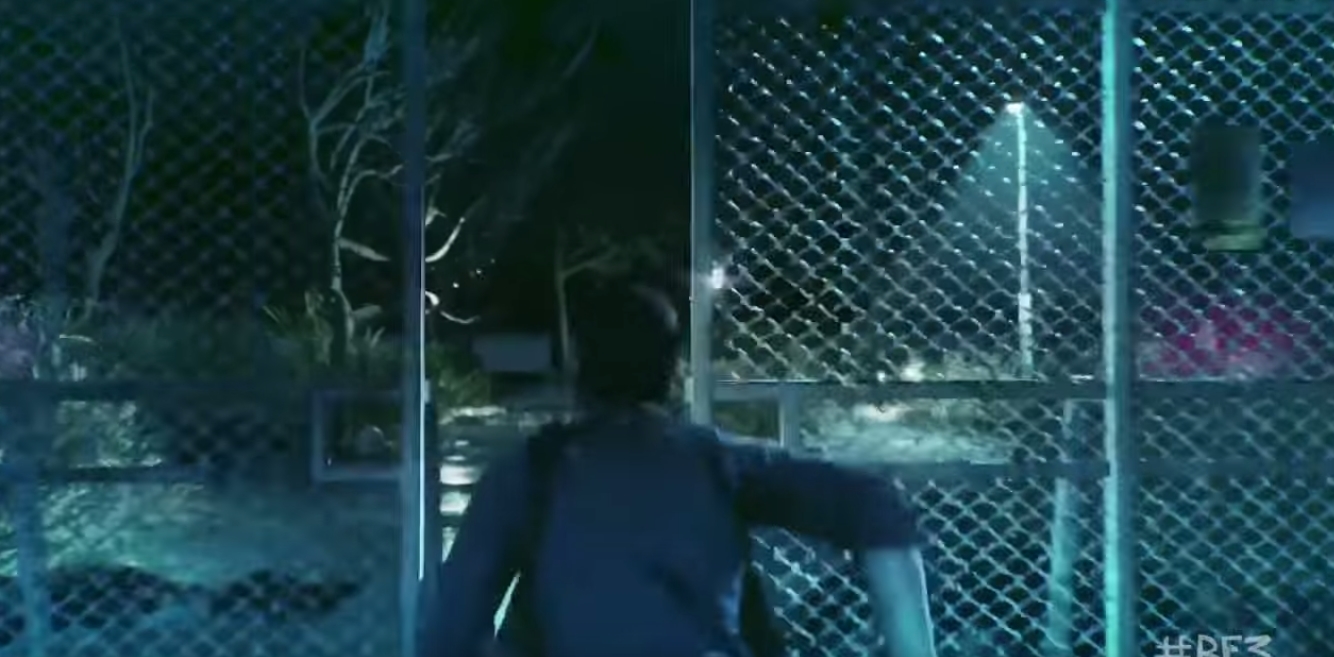 We see Sebastian seem to try to leave the city, but fences block him in preventing him from leaving.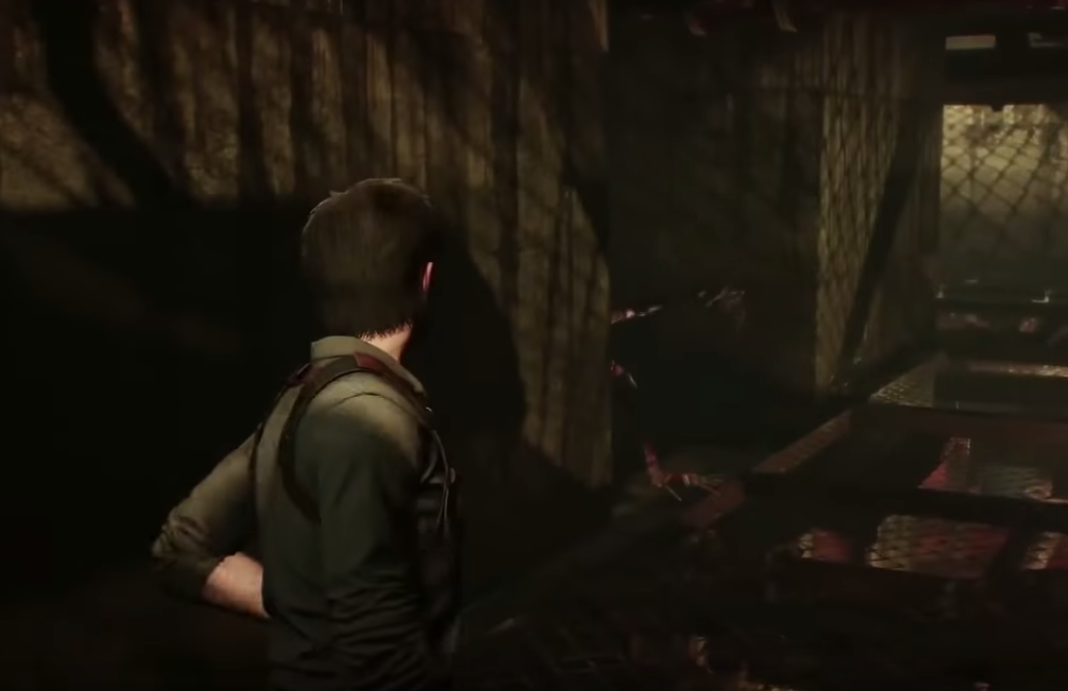 We see what is very clearly the asylum from the original Evil Within and the classic Laura coming for him, implying the classic asylum may be one of the stages within The Evil Within 2.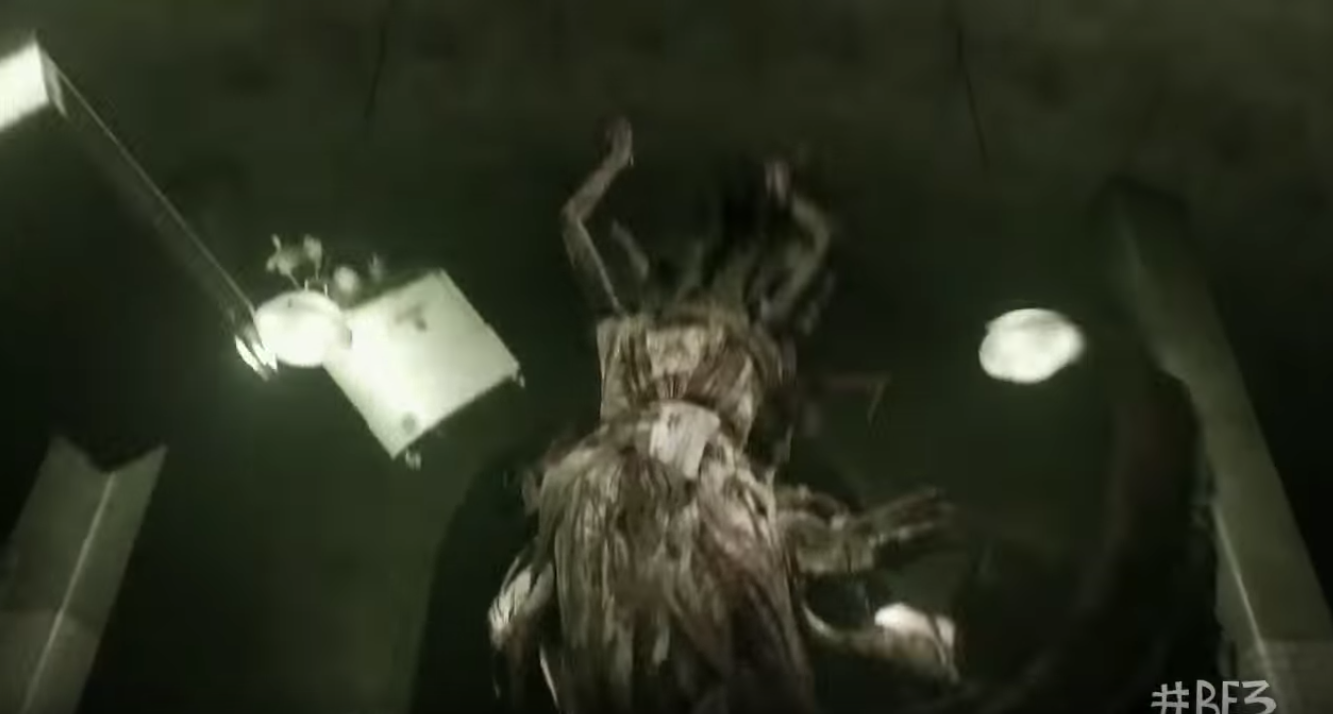 Then as if to confirm to us it's not just the old Laura, we see the new Laura we saw at the beginning of the trailer, she's in the asylum from the original TEW and lifts up a lot of hospital trolleys and tools, showing that she has the ability to manipulate and move objects in the environment (the one who moved the chair in the house earlier?).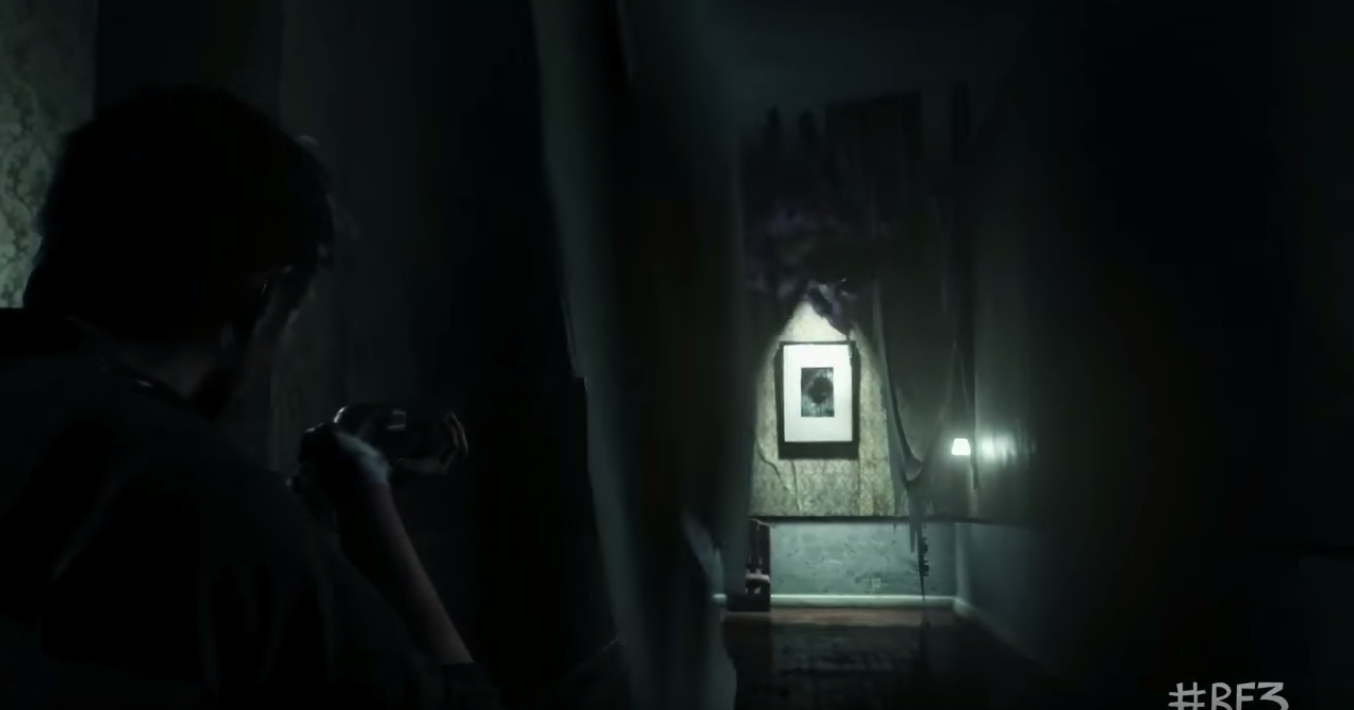 We then see Sebastian in the house location with the new camera-headed mannequin enemy crawling on the walls. He has a shotgun in hand, however. Also drapes seem to be torn and flowing from the ceiling.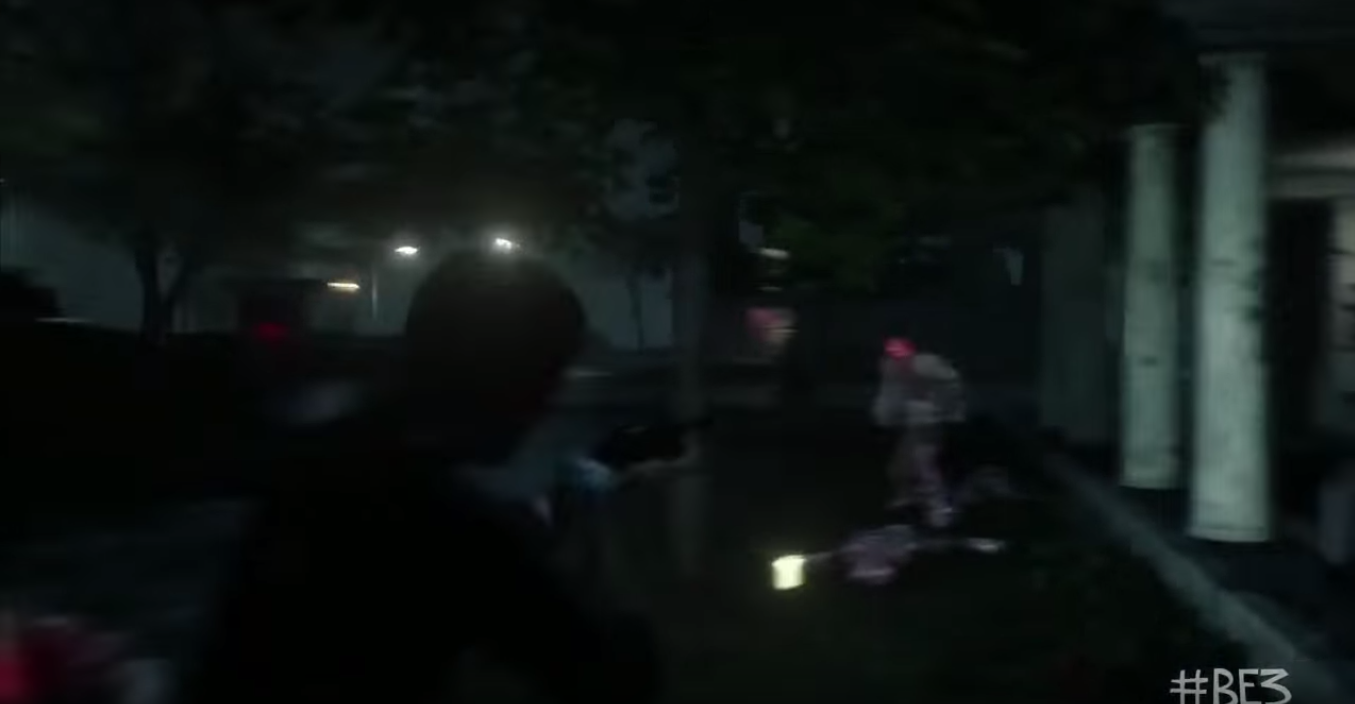 We then see Sebastian in a front yard of a house by a road, probably part of the hub shooting off regular Haunted with the Shotgun. It also shows he has a quick-turn ability here.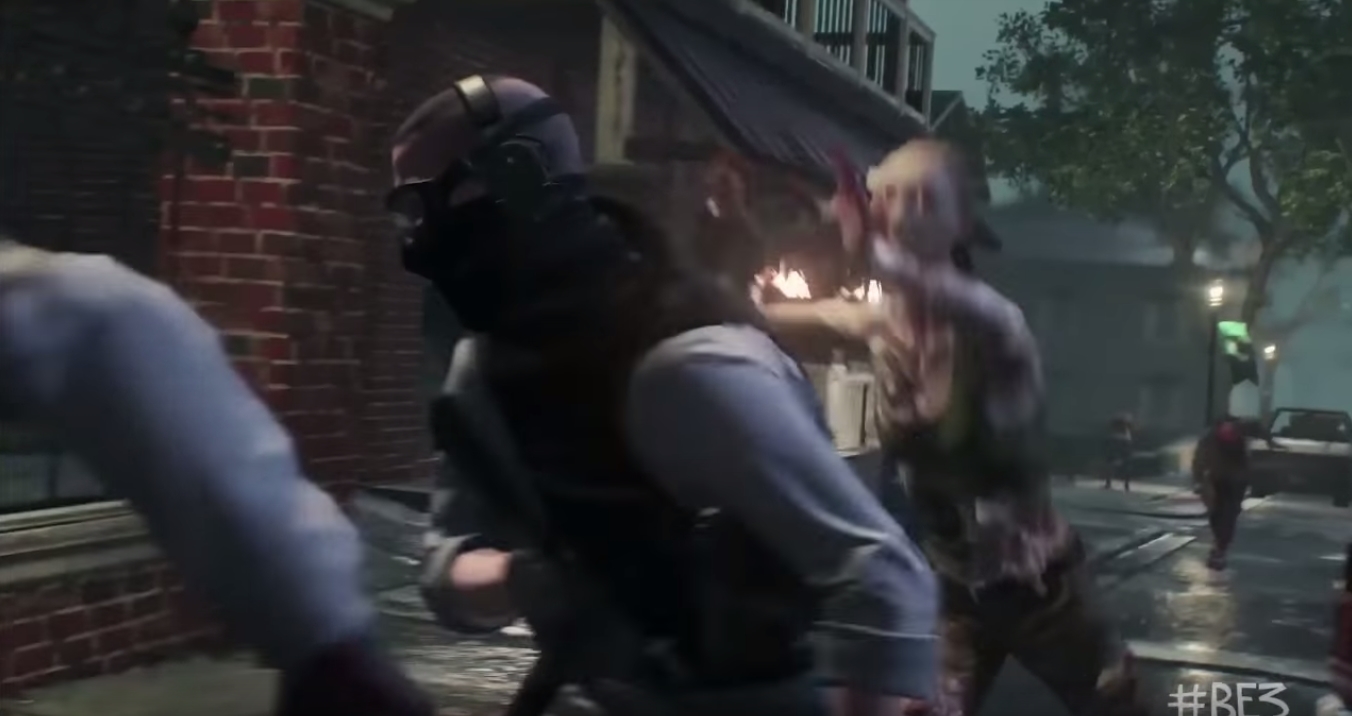 Now this is interesting, we see another character, a masked figure with a gun fighting off other of the new "Haunted" in the open world. He gets grabbed, either about to die or do something else. Could be a sidequest to save him? Maybe just a scripted death of another character in the STEM. To be seen.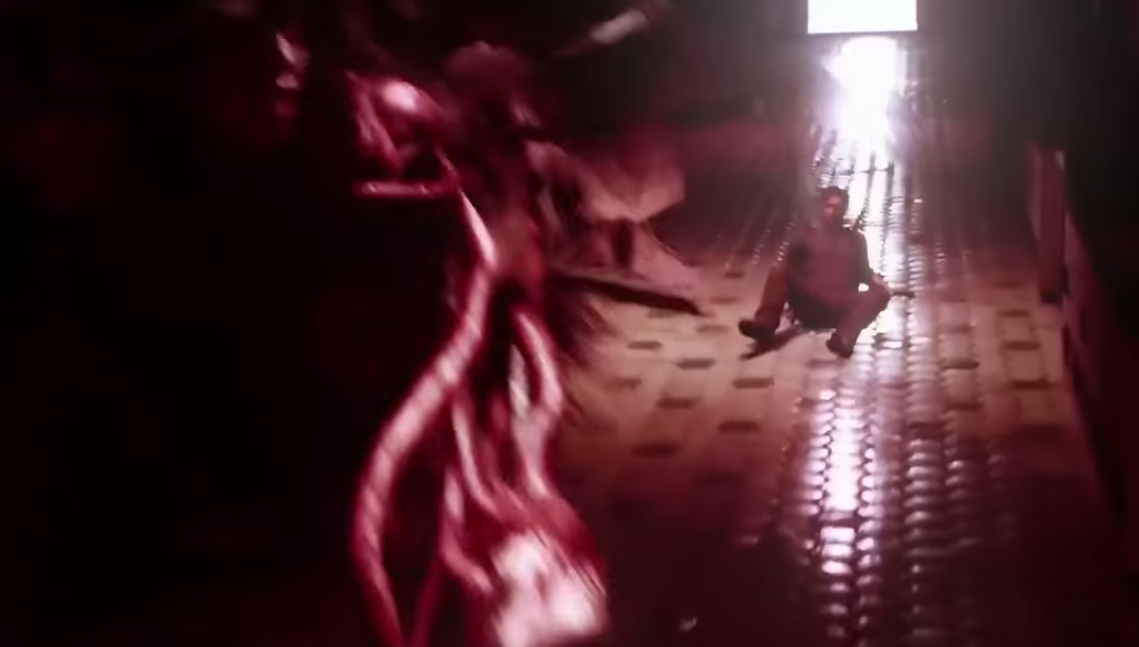 We see Sebastian desperately scuttling backwards from something in a cinematic.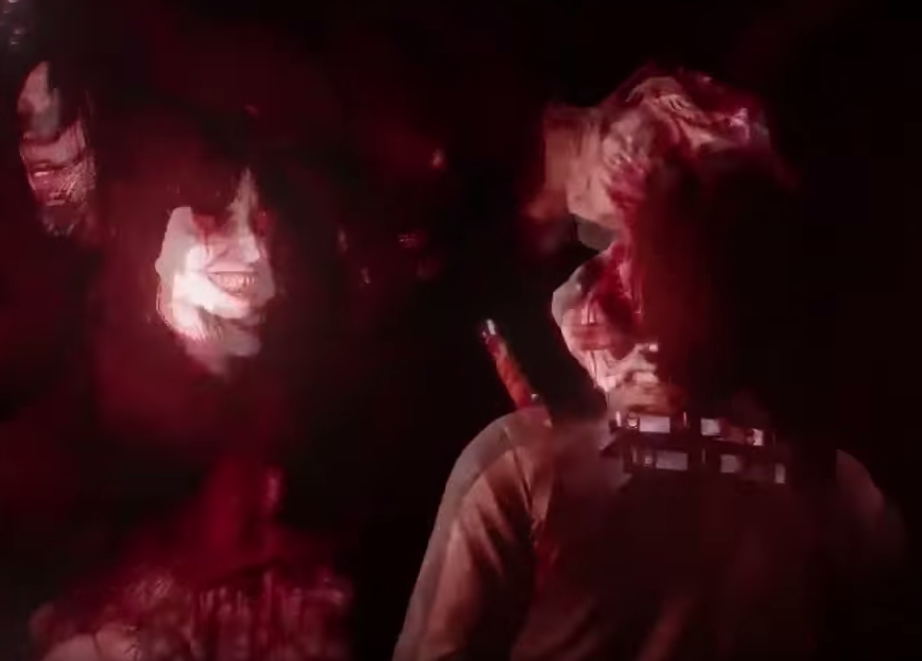 The creature reveals itself to be maybe ANOTHER form of Laura, but this time she's bigger and seems to have other faces attached to her own.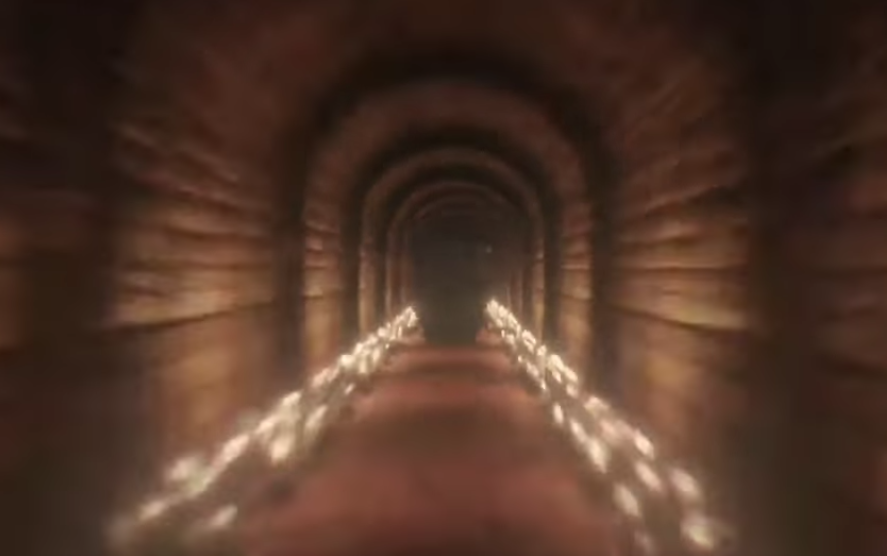 We then see one of the transition scenes from the original game. Sebastian falls through a hallway impossibly fast and it drops him notably on the country road we saw earlier (one with him dodging the knife attack and the closed off fence later).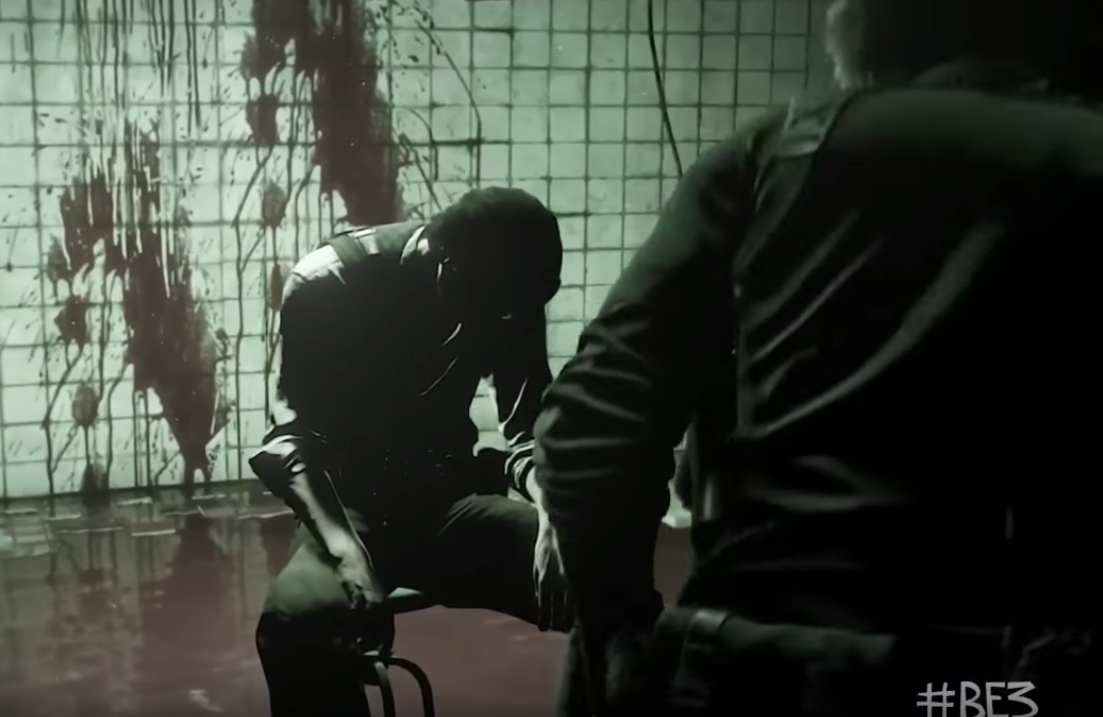 Trailer ends with Sebastian approaching himself from the first game slouched over. As he reaches for himself, Laura's hands pop up and drag him into the ground.
End of trailer.
---
Okay, one last thing to analyze. Screenshots.

Here we see the scene from the CG trailer in gameplay. and can see cameras are fit around him. Might be scenic, might be a puzzle, to be seen. The message on the wall did say appreciate the artwork.

We see the house location, Sebastian has shot off part of the new "Haunted" face like he could do in the original game, but they no longer have blood inside of them, but white ooze.

Sebastian still has his agony bolt and has used it against the new "Haunted", and seems to be in the open-world Union hub.

Sebastian is in Union still but a great eye has appeared from the sky. He also seems to be in front of a building with a clock tower and angel statue, which one imagines you likely can enter.

Sebastian meddles with the device Kidman gives him and finds a trace of Lily as a shadow in the town.

We get a clearer shot of the camera-headed mannequin monster in this screen.
---
Hope these observations were interesting to you guys!