My THE EVIL WITHIN Review
(1st draft)
When I heard Shinji Mikami was working on a survival horror game back in 2010, I was not only happy, but screamed like a little girl because he was the same man who created one of my favorite franchises, Resident Evil. After Resident Evil 4, after when Mikami-san left Capcom, I was worried about the future of Resident Evil games, although he only directed Resident Evil (and Remake) and Resident Evil 4. He was a great adviser when they were developing other Resident Evil games he did not direct.
After Resident Evil 5 back in 2009, I got more worried. Resident Evil 5 was a great game, but it could have done so much better than its predecessors. After that was Resident Evil: Revelations, which I still consider the best Resident Evil game since Resident Evil 4. Then came Resident Evil 6… Oh, man.
When the first trailer for Resident Evil 6 was revealed out of nowhere back in January 2012, in the first minute and the half, I was so excited to see Leon fighting zombies in grim, eerie environments…until after that showed Chris' parts, then I cried with sadness because of how extreme it showed. But that's not the worst part of the trailer; the worst part was when they showed Jake's parts. The second trailer made it better than its reveal trailer, but I was still worried about was the franchise going. So after that, I decided not to watch any more new trailers of the game. In October 2012, I finally got the game and holy crap it was the worst Resident Evil game ever. To show you how much I hate the game, let's just say I "still" enjoy Resident Evil: Survivor more than this.
The Evil Within and Dead Space 1 (and 2) are perfect examples of what modern survival horror games should be like. Sure, I am a fan of fixed cameras, too, but they only work for dedicated games like Resident Evil: Code Veronica and Dino Crisis. The ideas of fixed cameras for exploring and over-the-shoulder while aiming in the older built of Resident Evil 4 was amazing, and I am still upset that until now I don't see any horror games using that style of gameplay. The only game I still think it's using that idea is Forgotten Memories, which I want to know when will the game be out already.
The Evil Within delivered, what I believe, hardcore Resident Evil fans have been asking for, but main question is, is it a great game?
Presentation (8/10):

The Evil Within is what I think is a spiritual successor to Resident Evil 4, but I also think this is the game not for everybody. After finishing the game, I asked myself "will newcomers enjoy this game?" To be perfectly honest with you all, I think this game was created only for those who love Resident Evil 4. This game is very much dedicated for these kinds of fans and I strongly believe that newcomers will not enjoy this game, for it being too hard and old school (2000s style). The game has more than ten chapters and took me roughly 15 hours to beat the game. The game had a lot of memorable boss fights, and there were few of them who were annoying, especially when I was wondering if I was supposed to kill them or find other ways to exit these kinds of segments so I don't waste bullets. Wearing headset is required, because the sound design in this game was amazing and so it the game's soundtrack. There were some chapters I hated a lot but I do have my favorites, too. The game didn't provide as much puzzles as Resident Evil 4 did, and most of these puzzles were easy to complete. Okay, that's great and all, but the real question is, is The Evil Within scary? The only way I can answer this is if you've played Dead Space 2 and got scared, then it is the same thing.
Story (8/10):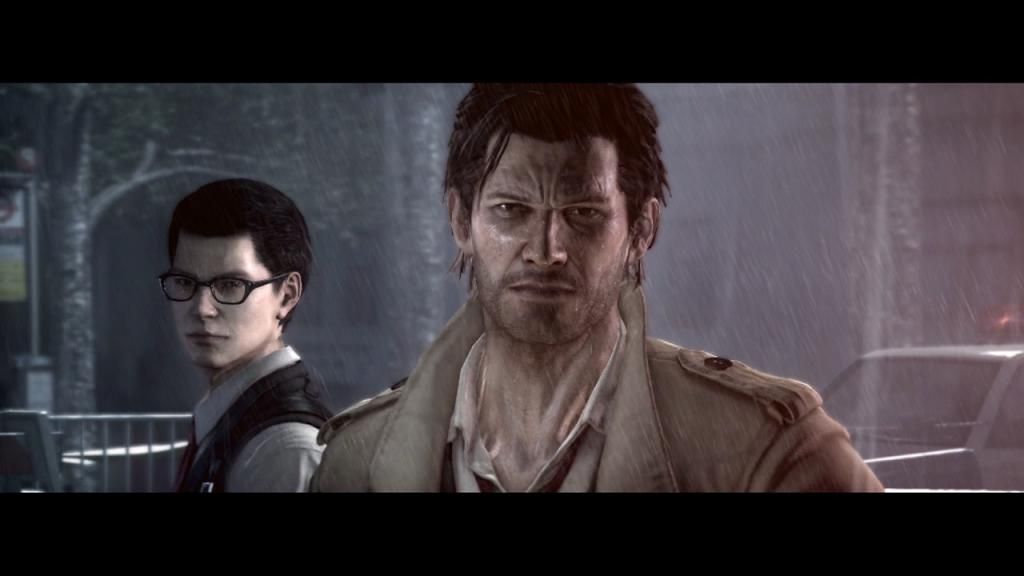 Now let's be honest, Resident Evil 4's story was filled with clichés and over-the-top characters. I always think the game's storyline was something from many anime. I guess Mikami and his teams were watching too much anime during the development of both the early and final built. Maybe that's the other reason on how Devil May Cry was created. Resident Evil 5, in my opinion, has the best Resident Evil story yet. The Evil Within's story was actually interesting. But there were moments I really think were still fragments and have yet to be solved. I'm not sure if the game will have a sequel, but it made it like it will after that ending. The characters are alright, not really that great, but I think the players will enjoy Sebastian. The only problem I have was Joseph. I won't spoil it too much, but let's just say that he was raised as a smart, gentle cop in the world of anime and got a job in the real world. I'm dead serious. Ruvik is basically 'Albert Wesker when he is out for his revenge on William Birkins and other Umbrella staffs for stealing his expensive pancakes'. Again, I won't spoil the story (there are other legit explanations on his motivations) but I think you'll enjoy the story more than the over-the-top, cheesy and corny plot from Resident Evil 4.
Gameplay (6/10):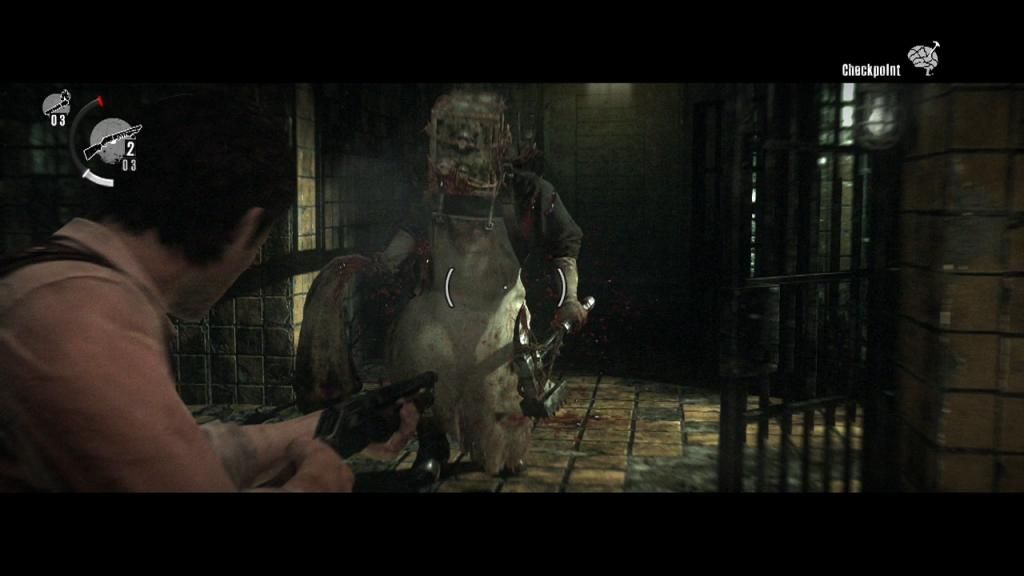 May I say that both Resident Evil 5 and 6 and even The Last Of Us have better gameplay mechanics than this? Okay, hear me out, as much as I enjoyed the game, I did not enjoy or even happy with The Evil Within's. The problem with the game's gameplay mechanic was that I did not have the will or even have command buttons to dodge enemies' specific, unavoidable attacks, even in boss fights. The aiming is also another issue; there were moments in when I aimed at some enemies heads being exposed while they're taking cover, I cannot seem to have my bullets hit them. There were also some invisible walls supporting enemies hiding behind walls, when I can clearly see and aim and even shoot, which again, I cannot seem to hit them. Wasted so much bullets because of that stupid faulty built. The ammo in the games are very scarce, by the way. Stealth was required in moments where I know there were notable enemies (like stronger ones with unique weapons) are near-by to take down common enemies so that way you don't attack them all at once and also to save more bullets. There are placed traps I can disarm them and then have their parts to build ammunition for my crossbow weapon. My favorite one is the explosive bolt (when I maxed out its upgrade).
Graphics (6/10):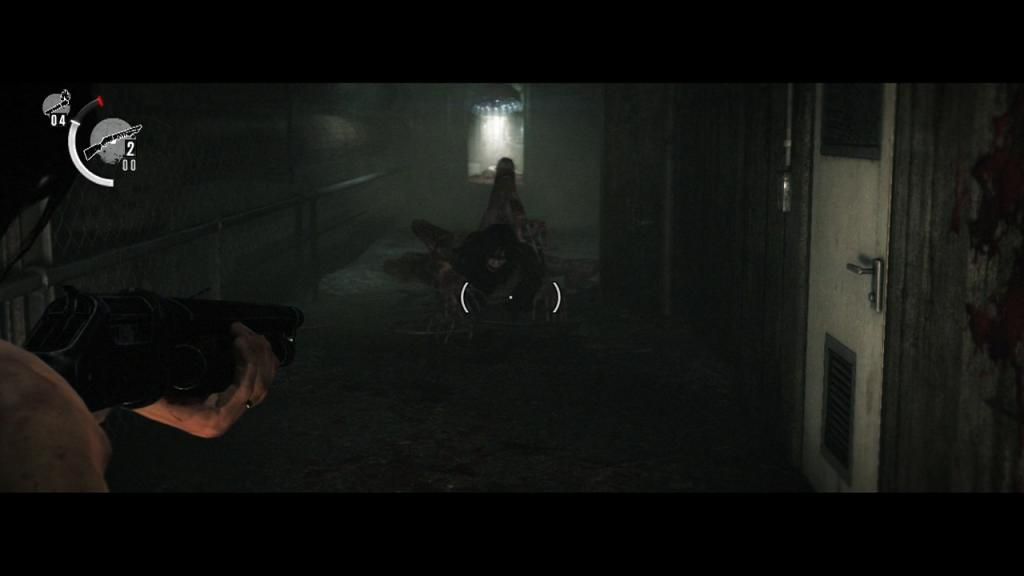 Despite how beautifully detailed the characters and enemies and even the environments are, the Playstation 4 version suffered a lot frame rate issues (like 40% of the whole campaign) and loading textures during both in-game and cut-scenes. I really don't understand idTech 5 engine, especially when this is the modified one for this game. The textures in many half of the environments are very fuzzy and low-resolution. Whenever I die, I had to wait at the loading screen for 15 seconds. I do not know what's loading while I was waiting after being killed? Was it resetting the environment or the scripts or both? Again, I really don't understand the game's modified engine. The Last Of Us: Remastered looked more detailed and even when I get killed by any enemies, the loading screen only last 4 seconds. I really hope they will release a patch for it to fix these issues. So much for a 40GB game.
Sound/Music (8/10):
Headset is required for the sound design and the soundtrack are amazing. It was easier for me to know where the enemies at, especially when I knew where the chainsaw maniac was...it was terrifying and creepy. As for the soundtrack, if you (like me) still enjoy Resident Evil 4's and any of Akira Yamaoka's eerie tracks in Silent Hill from 1 to 4: The Room, then I am happy to say that The Evil Within has these kinds of tracks. Some of the boss fights music were pretty awesome to listen to, and I absolutely loved The Keeper's theme. I hope The Evil Within original soundtrack will be available shortly after its launch day.
Replay Value (8/10):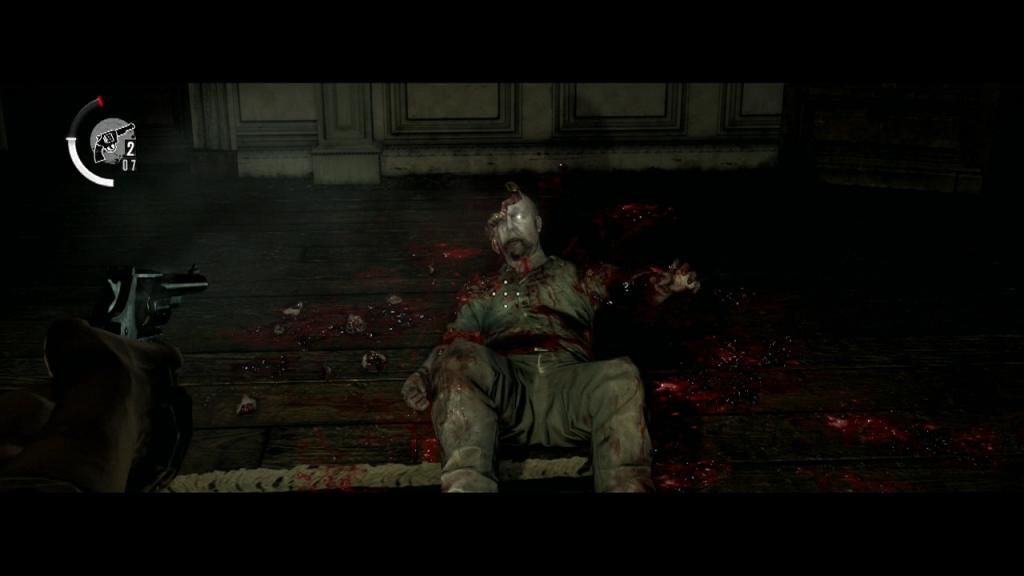 After completing my long 15 hours campaign, I've unlocked new weapons and others for New Game + and two new difficulties (and I won't play any of these two, because I'm too scared to do so). So far we know that the game's DLCs are on their way and will be available when they're ready for release.
Overall: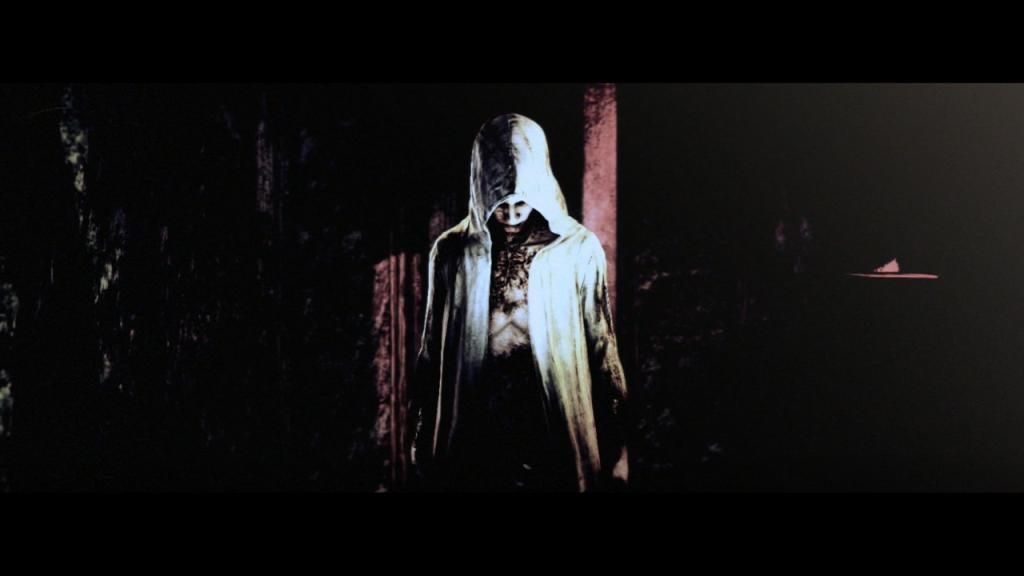 The Evil Within is a survival horror game old school Resident Evil fans have been asking for, but still not sure if newcomers will appreciate the game. There were frame rate issues and some visual looked washed out in some (or most depending on what system you're playing with) moments. The gameplay mechanic could have done better, but it was still decent to play with. The game's sound design was excellent and so was the soundtrack. The game's length was pretty long and I appreciated that. Had a great and weird experience with The Evil Within and I look forward for its upcoming DLCs. As a huge Resident Evil fan, The Evil Within is not perfect, not better than Resident Evil 4 but it is far better than Resident Evil 5 and 6.
Score:
7/10